UFC Bantamweight contender Irene Aldana spoke to MMA Junkie and expressed her views on her future in the division. Aldana is booked to face the former champion, Holly Holm, in August. The fight card is still under construction, however, the high stakes main event is set in stone. The general consensus is that Irene Aldana will come away with a title shot with a victory over Holm.
'The Preacher's Daughter' has gone 0-3 in title shots spanning her last 6 fights. Not to mention having fought for the belt in the featherweight division. However, Holm has fought the top names in women's MMA and remains a dangerous outing for any fighter.
Irene Aldana on her UFC future
Irene Aldana acknowledges Holm's status and observes an opportunity to call for her shot against Amanda Nunes. 'The Lioness' is the consensus GOAT and has been a tyrant in the 135-pound division.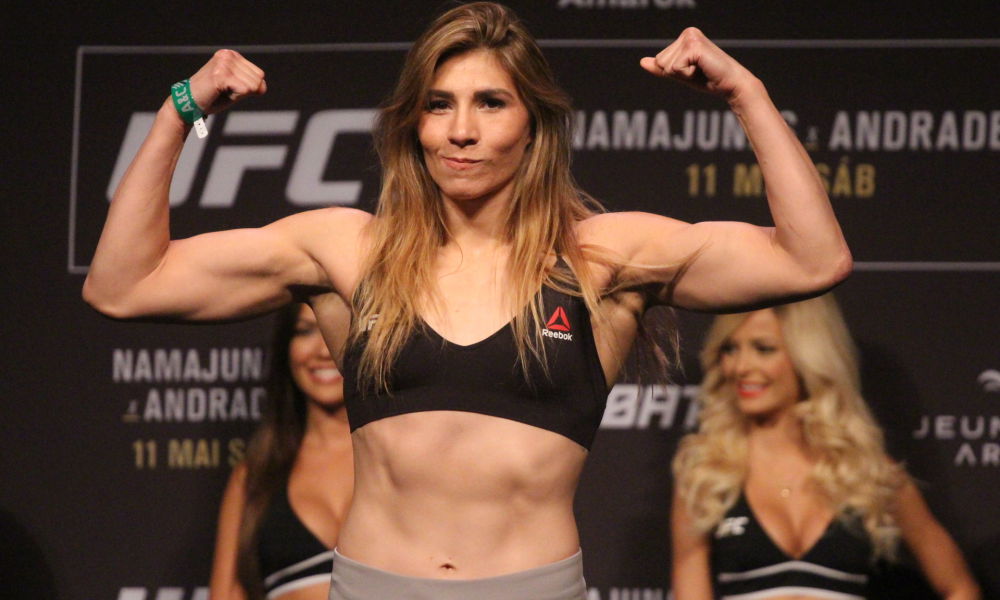 "I don't know what type of plans they (UFC) have for me, but I think, me personally, this is a fight where it is very clear that I could be the next contender to the title, beating a former champion and defeating someone of the level of Ketlen Vieira, who I beat in December. So I've gone through big names. In 2019, I went through important fights and the fact that I'm facing Holly Holm, I think it's very clear that I could be challenging for the title."
Amanda Nunes has recently mentioned retirement, as she awaits the birth of her child. She believes that she's accomplished everything in the sport. In light of these statements, it remains to be seen whether 'The Lioness' relinquishes her throne.
"Whatever decision Amanda takes, it needs to be respected. She's done a lot for the sport, and if she's satisfied with that and wants to retire, that needs to be respected. The fact that she's saying that there are no challenges in the division – I think that's a wrong idea.
With a win over former champion Holly Holm, Irene Aldana may easily cement her place to contest for a belt. It remains to be seen whether Amanda Nunes sticks around to answer her call.
Continue the conversation on the app, join other MMA fans on MMA Fans App