"Who the F*** is He Talking to?"- Darren Till Responds to Israel Adesanya's P*ssy Comment
Published 03/17/2020, 5:07 AM EDT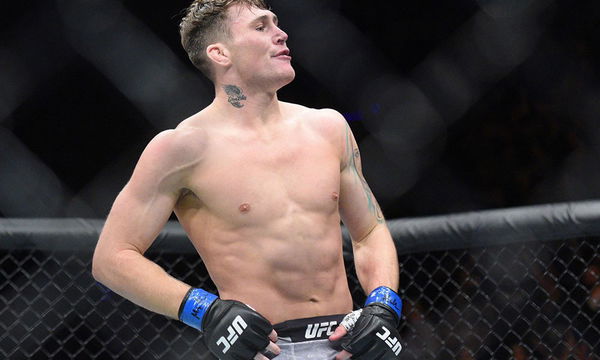 ---
---
It begins with a setting and then sometimes it can end with crude remarks intended to push an opponent in the corner, considering this time it's Darren Till and Israel Adesanya.
ADVERTISEMENT
Article continues below this ad
Even before UFC 248 had materialized, where "The Last Stylebender" successfully defended his title belt, he called Till a "p*ssy" for not wanting to fight Yoel Romero.
Adesanya, in an episode of UFC Embedded, said this about the UK MMA star who has now responded while appearing on MMA Fighting's Eurobash podcast.
ADVERTISEMENT
Article continues below this ad
"Did he, yeah?" Till replied when asked if he'd heard Adesanya comment. "Who the F**k is he talking to like that?"
"The Gorilla" took this whole situation with a stride and then burst into laughter.
"It's all good," he said. "Of course…of course, he's keeping me close. We speak everyday, me and him, we message everyday. It's all good."
Till then responded about his seemingly cowering attitude whenever Yoel Romero is mentioned to him.
"Of course, mate, he's a beast – I'm terrified," the UK middleweight said this with a laugh.
When asked if he still fears "The Soldier of God" after his bout with Adesanya, Till replied saying, "Do you not believe me? 50 per cent of people comment saying, "I know why Till is scared,' (and) they still believe it, so I don't know."
Till further said that why he thinks him and Adesanya share a great rapport.
"You know that Israel knows that I'm not scared of Yoel. He's just doing that. He knows what he's doing and so do I."
"Look at the way I've marketed this whole thing now Yoel and everything. (I'm a) f**king genius, you know what I mean."
The promotion is close to getting a huge headliner in Darren Till vs Robert Whittaker in its return to Dublin.
ADVERTISEMENT
Article continues below this ad
Reportedly, both these middleweights are being lined up to headline the 3Arena in a high-profile bout.
The Australian held the middleweight title for two years before Adesanya stripped him of it at UFC 243.
The Liverpudlian was due to fight Whittaker earlier this month but then had to back out after he picked up an injury.
ADVERTISEMENT
Article continues below this ad
Darren Till will be coming off an impressive win over Kelvin Gastelum at UFC 244 while Whittaker on the back of a devastating loss to Adesanya.