Yoel Romero Reveals His Retirement Age Ahead of UFC 248
Published 03/04/2020, 8:23 AM EST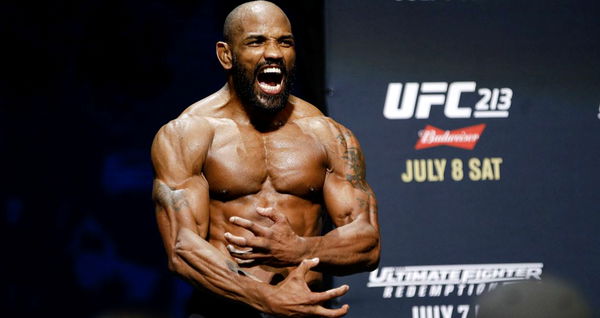 ---
---
Yoel Romero wants to fight till he's 51. " I might be 42 but I want to fight 10 more years!"
ADVERTISEMENT
Article continues below this ad
The Cuban fighter is currently 42 years old and fights at middleweight and wants to continue for another decade. Yoel Romero is a powerhouse of strength and agility and I see him lasting a few more years if not a decade.
Yoel Romero hints at retiring- After breaking Bernard's record.
ADVERTISEMENT
Article continues below this ad
Yoel's main intention of fighting for another decade is his desire to overtake Bernard Hopkins. Bernard Hopkins currently holds the record for the oldest boxer to hold unified titles in a boxing division. Bernard retired from boxing at the age of 51. Romero wants to outdo that. That will right now take him a decade to achieve. Does he have what it takes? Will he need to size up or down to sustain himself for that long? Will he be able to take hits till he's 51? More importantly, can he strike at the same rate he does currently?
Yoel Romero's current record stands at 13-4-0. Yoel's a wrestler and insanely good one. The power he packs and the force he carries is a testament to this.
ADVERTISEMENT
Article continues below this ad
Yoel goes up against Israel Adesanya at UFC 248 this match. Yoel is currently coming off 3 losses in his last 4 fights. But he still stands a good chance against the middleweight championship. If there's one person Adesanya needs to beat to prove a point, it's Romero.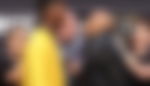 Yoel Romero vs Israel Adesanya is a major event and can prove to be career-altering for Romero. It's where he gets to prove he's still got what it takes to fight the best fighters in the division. Irrespective of age he can keep going. It is here where Romero can put a seal on his critics as well as Adesanya's "rambling" mouth.
ADVERTISEMENT
Article continues below this ad
He's great for 42( or should we say 122!). Yoel is no doubt standing tall and strong for a 42-year-old fighter. He's showing no signs of slowing down or retiring anytime soon. He's still making main events and contends for his weight class' title. We hope he continues to