Dana White's Call To Tom Brady Left Unanswered
Published 03/20/2020, 1:16 PM CDT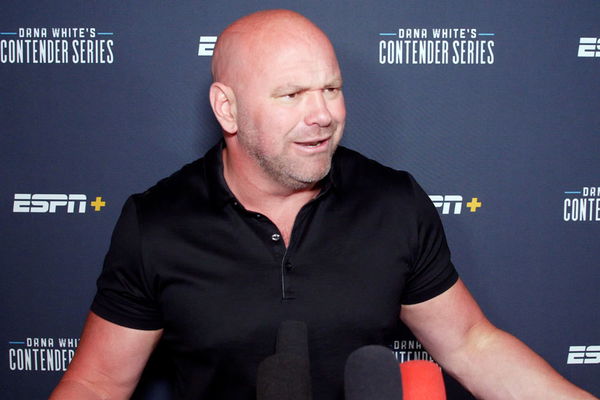 ---
---
The news of Tom Brady declining to re-sign with the New England Patriots broke the internet. There has been a lot of chatter about Brady's next move. So much so that voices all the way from Las Vegas could be heard even from UFC President Dana White.
ADVERTISEMENT
Article continues below this ad
"You know I've been pitching you now for a month. Come on, now, brother. Get to Vegas!"- Dana White
White was seen making a very public request to the six-time SuperBowl winner to join the Las Vegas Raiders for the NFL's 2020-21 season. However, Dana White's requests seem to have fallen on deaf ears as Brady will be kitting up for the Tampa Bay Buccaneers.
ADVERTISEMENT
Article continues below this ad
"Tom is a proven champion who has achieved greatness on the field because he demands the best out of himself and his teammates. I've known Tom since we drafted him in New England 20 years ago and through this process, it became very clear that his desire to be a champion burns as strong today as it ever has."- said Jason Licht (Buccaneers General Manager)
Dana White Requests Tom Brady To Join The Raiders
"I'm a Boston guy, through and through. I want you to go with the Patriots. But let me make my last pitch: Las Vegas would love to have you here at the Raiders. The training facility that they have outside of Vegas is unbelievable. It's a 45-minute flight from LA, your kids, and your family could live there, you could fly back and forth. We want you to come to the Raiders."- Dana White 
ADVERTISEMENT
Article continues below this ad
Brady's decision to sever ties with Patriots will put one of the greatest and most successful sporting relationships to rest. Since the Raiders were looking to take an interest in the 42-year-old, other members of the sporting community like Dana White could be heard rallying in favor of the Raiders.
"I know it's been a lot of patience for me and obviously, being where I've been for 20 years, it's been an amazing experience. I don't know what the future holds right now."- Tom Brady before signing with the Buccaneers
ADVERTISEMENT
Article continues below this ad
What sparked the chatter around Brady's possible move to the Raiders was a picture of the gridiron great with Raiders owner Mark Davis at UFC 246. The two were snapped having a rather friendly exchange.