The Heavyweight fight between Maurice Greene and Gian Villante was a tough act to follow. The earlier Heavyweight clash on the preliminary card saw Tanner Boser register a tremendous first-round finish. However, the duo picked it up in the 3rd round, with 'The Crochet Boss' sealing a win from out of nowhere.
Maurice Greene claims a shocking win 
In round 3 the fight really picked up, 'The Crochet Boss' landed a shot to Villante's left eye. The fight stopped momentarily for the doctor to check the fighter. Following the restart, Villante landed a tremendous right hand to send Greene to the floor. Here, he attempted to squeeze the energy out of his opponent.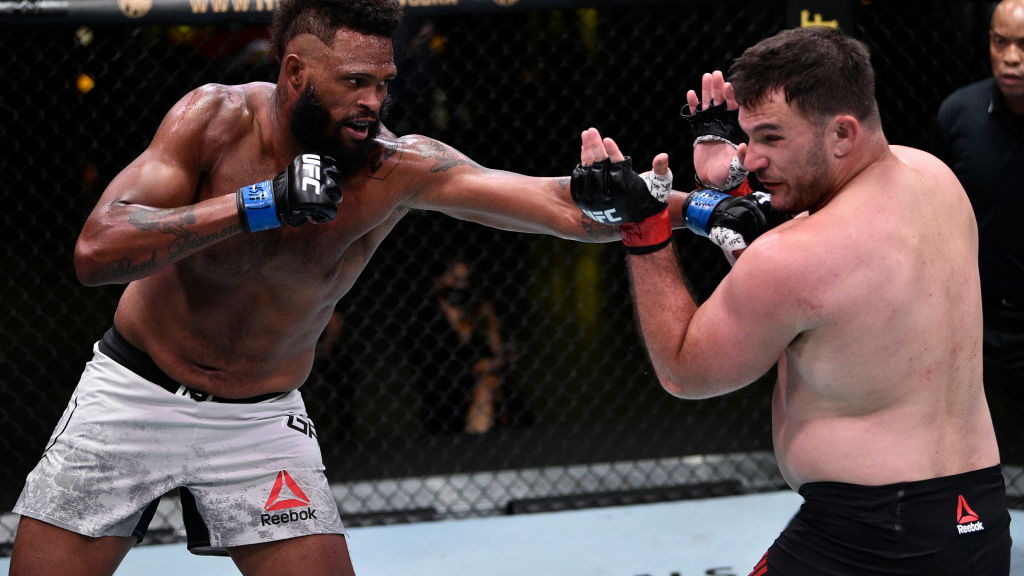 To his credit, 'The Crochet Boss' displayed enough fight despite a minor ground and pound attempt to convince the referee in charge to not waive off the fight. 
Villante maintained his position for the 2 minutes before falling victim to a choke. At first, fans believed 'The Crochet Boss' had tapped, but replays showed that Villante submitted and Greene had executed an insane arm-triangle from below. Villante would surely have been wishing he paid heed to his corner's advice and landed the elbows.
In a strange turn of events, @TheCrochetBoss gets the tap from the bottom 😧 #UFCVegas4 pic.twitter.com/6LzY6HeXBl

— ESPN MMA (@espnmma) June 28, 2020
The move had fans, commentators, as well as fighters astounded. One fighter took to Twitter to express his awe at the incredible turnaround. 
You don't see that everyday! Congrats @TheCrochetBoss ! You animal! #UFCFightNight @ufc

— Cody Stamann (@CodyStamann) June 28, 2020
Whilst the submission was unique, it was no doubt effective, as Greene ended a short losing streak. The Heavyweight had gone down to Sergei Pavlovich and Aleksei Oleinik in his last 2 fights. Meanwhile, Villante's search for a win in the Octagon will stretch into the 21st month.
Following the fight, 'The Crochet Boss' responded to Tanner Boser's call-out. Here he said they can meet on the Island any day of the week. "If you wanna get it you let me know man. Once I can get clear man you let me know."
The fight island clash is just banter at present. However, his unique submission at UFC on ESPN 12 is part of the history books and will be part of discussions for a while. What did you make of it? Did you see it coming even a few seconds before Villante tapped?
"Nice Armbar" – Ronda Rousey Lauds UFC Debutant Kay Hansen
Continue the conversation on the app, join other MMA fans on MMA Fans App