The Person Behind the Microphone: All You Need to Know About Megan Olivi
Published 02/27/2020, 12:37 PM EST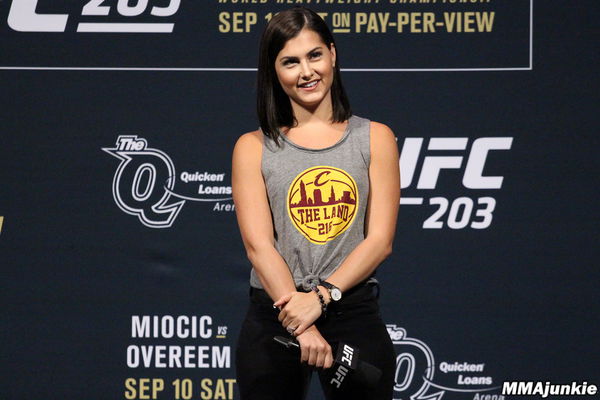 ---
---
With imposing interviews and the potential to host Ultimate Fighting Champion programs with finesse, Megan Olivi is one of the best reporters whose explanation of the martial art fights will make even a novice love the game. With her cheerful nature, she has gained over a quarter of a million followers on Instagram. In her free time, Megan enjoys spending time with her dog, hiking, running, doing yoga and cooking. The omnipresent and vibrant host has come a long way now and this article covers everything about her. 
ADVERTISEMENT
Article continues below this ad
Early Life
Megan Olivi was born on August 29, 1986, in New Jersey and is the youngest of the three children. The 5ft 2 inches sports reporter spent her early days in Nazareth, Pennsylvania. She is of Italian descent.
ADVERTISEMENT
Article continues below this ad
Olivi earned a degree in political science from Seton Hall University. While her study at Seton Hall University she got an opportunity to intern with the Fox News Channel and work as an assistant for Megan Kelly who at that time was covering the 2008 presidential election. Two things came into the picture during this internship of hers. Once she got to know the reality of politics and secondly the people she worked with and talked about sports asked her to try something in front of the camera. She said this in one of her interviews:- "(When I was at FOX News), that was the lead-up to the 2008 Presidential Election and I met everybody from both parties and they were terrible and the way they treated people was terrible and I didn't want to be a part of that my whole life. I didn't want to add to that, but I also didn't want to be on the receiving end of it either."
This was a turning point for the reporter. Megan has a background where here grandfather, great uncle, and elder brother were into the wrestling. She stayed in an area called "The Mecca of High School Wrestling". She spent most of her days in the gym and on the mats. Soon the graceful reporter moved on to pursue her master's degree in Public Communication and Mass Media Studies from Fordham University. She went on to graduate with Cum Laude honors.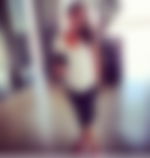 Megan Olivi- Career and Other Achievements
In 2010 Heavy.com offered Megan Olivi to cover the sports of MMA in Las Vegas, Nevada after completion of her master's degree. She took a chance and moved across the country to make her career. After taking this job Olivi fell in love with the sport and also started co-hosting the live UFC Preshow Fight Day. Olivi then went on to work for Fox Sports covering UFC events and hosting lifestyle segments for FoxSports.com.
In February 2013, she was hired as a correspondent for Fox news San Diego to cover the San Diego Padres. Meanwhile, she was also hosting and producing a weekly magazine show called "Padres POV". Her role in this particular job was a social media reporter. The talented reporter also has a television show on UFC Fight Pass titled The Exchange with Megan Olivi. In this show, she gives UFC viewers an inside look on the fighters who step in the octagon. She was a pageant judge for the 2017 Miss Universe Pageant at Planet Hollywood Resort & Casino. Olivi soon moved on from her career with the Padres and returned to Las Vegas to pursue a reporting opportunity with the UFC where she currently travels the world covering UFC events. Olivi also hosts UFC Ultimate Insider on Fox Sports.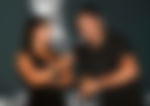 Megan Olivi- Married Life
In 2015, Megan Olivi married Joseph Benavidez. Joseph is a mixed martial art professional who competes as a flyweight in UFC. He will fight against Deiveson Figueiredo in Virginia, US this weekend. The love story of the couple started when Megan was working with UFC in Las Vegas in 2009. They became friends and soon Joseph proposed her for marriage in 2014. They both tied the knot in front of their family and friends. Since then the couple has been happily married with no children as of now.
Megan Olivi has been seen cheering and supporting her husband from backstage. The reporter also becomes emotional while seeing him fight. This is what she said in one of her interviews:- "With my job, it's kind of frowned upon a little bit that people would tie the two of us together in that emotional capacity," Olivi said. "When he fights, I'm like, 'Oh my God, what's happening?' I don't need people seeing that – no one needs anyone to see that – so we just kind of keep it hidden."
ADVERTISEMENT
Article continues below this ad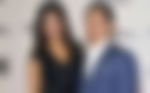 Megan Olivi is a real inspiration to all on how she manages all aspects of her life so gracefully. Her fans keep showering their love on social media for her and will continue to do so.
ADVERTISEMENT
Article continues below this ad