This is the Moment When a "Switched On" Conor McGregor Would Have Won Against Khabib Nurmagomedov
Published 02/06/2020, 6:36 AM EST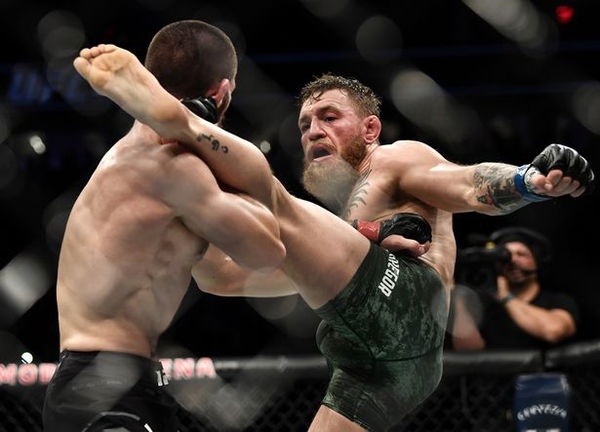 ---
---
After Conor Mcgregor made an impressive octagon return against Donald Cerrone the fans have started speculating one thing. Can a fully focused and prepared Conor beat arguably the greatest lightweight ever, Khabib Nurmagomedov?
ADVERTISEMENT
Article continues below this ad
Khabib Nurmagomedov squared off against Conor McGregor back in UFC 229. The lightweight champion fairly dominated Conor to pick up a submission win in the 4th round. Khabib even scored a knockdown against Conor, which left the fans shocked. because going into the fight the narrative was Conor would dominate in striking. However, Khabib had a fair amount of success while he striking with Conor.
Read: Khabib denies to fight Conor even for $100 million
ADVERTISEMENT
Article continues below this ad
The intriguing 3rd round of Conor McGregor vs Khabib Nurmagomedov
But in the third round, it seemed Conor was finally getting back to his rhythm. Conor is one of the best fighters in the early rounds. But Khabib won the first two rounds with his elite grappling. After losing the first round and getting knocked down in the second, Conor made comeback in round 3 and won the round.
Not only Conor had success with striking but also he stopped takedowns from Khabib. Recently a fan even claimed that if Conor McGregor was fully focused as he is now then he would have knocked out Khabib in the early minutes of Round 3.
ADVERTISEMENT
Article continues below this ad
Conor McGregor opened up about what went wrong in the training camp and from those statements it is safe to conclude that Conor was not at his best when he fought Khabib. But can Conor McGregor at his best beat Khabib?
ADVERTISEMENT
Article continues below this ad
It's easier said than done. Khabib's striking is highly underrated. It's rudimentary but it's effective. He might not be as good as Conor but Khabib's striking combined with his wrestling makes him unstoppable in the octagon.
Whether Conor can avenge his loss against Khabib, we can only get the answer if they face each other again. But it is safe to say that Conor has the skillset to give a tough night to Khabib on the feet and the rematch is going to be different compared to the first encounter.