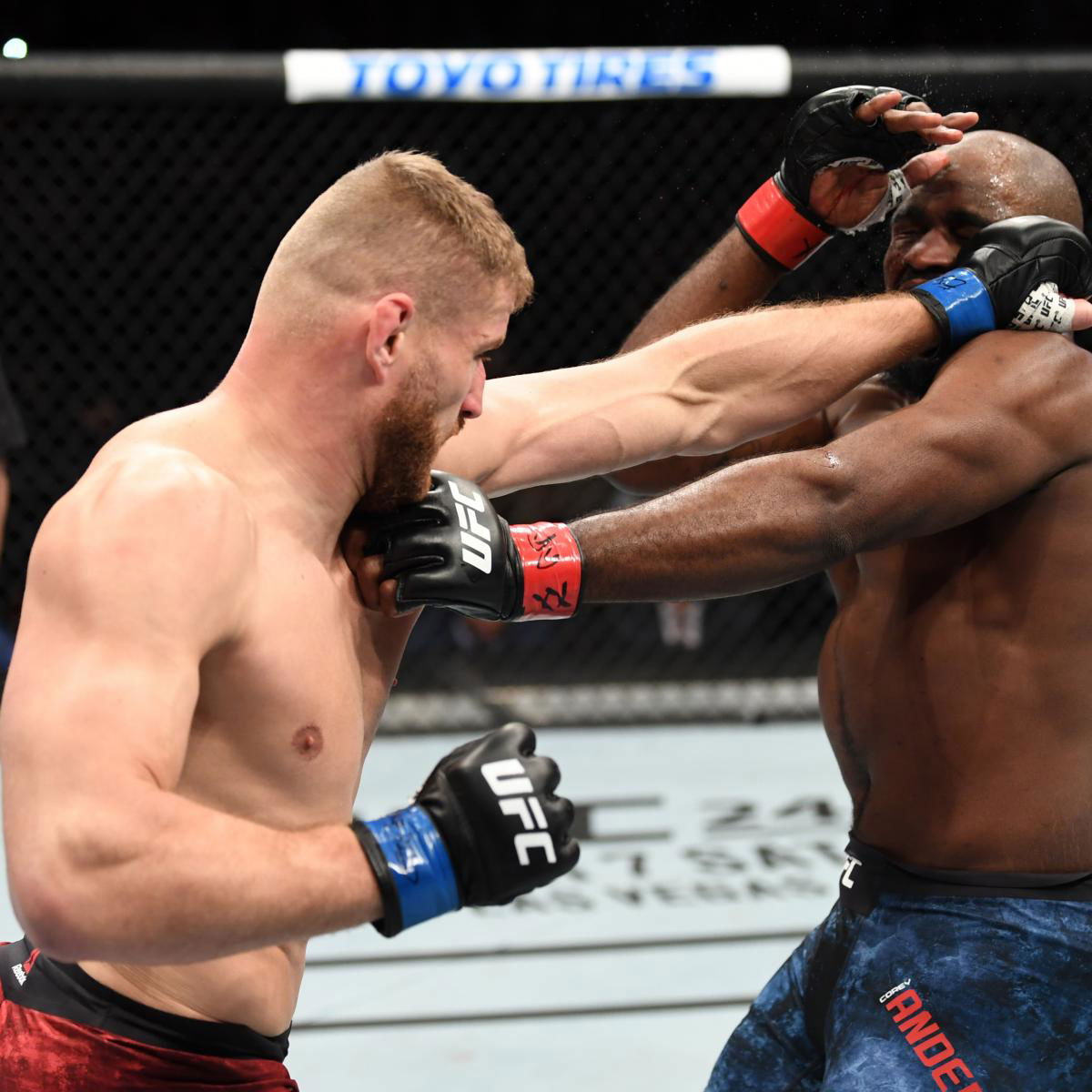 Jan Blachowicz managed to overturn his previous loss against Corey Anderson in an impressive fashion at UFC Rio Rancho.
The fight on Saturday was a rematch of a fight at UFC 191 which Anderson won via unanimous decision. Weighing in at 205 pounds, it took just over three minutes for Blachowicz to emerge victorious over his old foe. A right-hand followed by a hammer fist from Blachowicz knocked Anderson out at 3:08 mark in the first round.
With the win, Blachowicz could possibly get a shot at Jon Jones for the UFC light heavyweight championship. Immediately after the fight, Blachowicz made a gesture pointing towards Jones, who was in the arena, as if to say, "be ready."
Twitter reacts to Jan Blachowicz potentially booking a fight against Jon Jones
Fans and other fighters on twitter were quick to point out a possible title bout between Blachowicz and Jon Jones.
HOLYSH*T 😱😱😱

Jan Blachowicz brutally knocks out Corey Anderson in the first round at #UFCRioRancho and then calls out Jon Jones 🔥🔥🔥pic.twitter.com/M84jpsHR8p

— MMA India (@MMAIndiaShow) February 16, 2020
Jan Błachowicz bombards with "legendary Polish power," plastering Corey Anderson in just three minutes! That's three straight wins with two big KOs; is it enough to entice Jon Jones? #UFCRioRancho pic.twitter.com/QJkgJdkhd7

— Kyle Johnson (@VonPreux) February 16, 2020
Ohhhh man!!!

Blachowicz has legit lights out power 😱

Shot at Jones next?? Who else is in line right now? #UFCRioRancho

— Megan Anderson (@MeganA_mma) February 16, 2020
Bardzo ładne @JanBlachowicz!
Time for a tittle fight @JonnyBones

— Krzysztof Soszynski (@KSOSufc) February 16, 2020
The most dangerous threat to Jon Jones IMO just got upset. Is it March madness yet . Excellent fight Jan B #UFCRioRancho

— Derek Brunson (@DerekBrunson) February 16, 2020
H O L Y F U C K 😱😱😱

Meanwhile

… Jan Blachowicz just knocked Corey Anderson the fuck out …with Jon Jones sitting in the front row.

NOW THATS WHAT I CALL MAKING A STATEMENT ‼️#UFCRioRancho#UFCFightNight

— Javier Urquieta ‼️ (@DeJesusUrquieta) February 16, 2020
Dominick Reyes at home watching this interaction between Jon Jones and Jan Blachowicz like… pic.twitter.com/RTGWFJ48qV

— Ben Fowlkes (@benfowlkesMMA) February 16, 2020
Boom 💥 I called that one #UFCRioRancho

— Niko Price (@Nikohybridprice) February 16, 2020
Oh snap.

Jan Blachowicz just knocked out Corey Anderson in the first round.

And then walked over and pointed at Jones and Jones seemed to love it.

That was it, Jan. Well done.

— Ariel Helwani (@arielhelwani) February 16, 2020
Continue the conversation on Telegram, join other MMA fans on MMA Fans Group