Unforgettable Quotes of Conor McGregor
Published 01/07/2020, 4:10 PM EST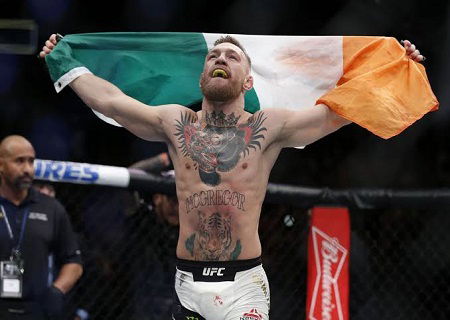 Conor McGregor and his achievements inside the octagon has a lot to do with how his fights get made. Conor is a masterpiece on the microphone. He has impeccable talking skills and takes every opportunity to use it to his advantage. We will take a look at some of the greatest lines said by Conor McGregor in UFC. Additionally, we look at how he fared inside the octagon after his antics outside the cage. 
Conor McGregor's Greatest Lines
Ahead of Jose Aldo Fight
ADVERTISEMENT
Article continues below this ad
"I own this town, I own Rio de Janeiro, so for him to say that he is the king and I am the joker, if this was a different time, I would invade his favela on horseback, and would kill anyone who wasn't fit to work. But we're in a new time, so I'll whoop his ass instead."
McGregor wasted no time in trashing former featherweight champion, Jose Aldo ahead of his fight for the lightweight championship at UFC 194. He won the fight via knock out at the 13th-second of the first round.
On his welterweight debut against Nate Diaz
"The only weight I give a f— about is the weight of them checks and my checks are always super heavyweight."
McGregor received a purse of $1 Million for his match against Nate Diaz at UFC 196. He lost the fight via submission, However, he won the rematch at UFC 202.
Conor McGregor ahead of a match against Rafael Dos Anjos
"Me and Jesus are cool. I'm cool with all the gods. Gods recognize gods." 
The fight was canceled after Dos Anjos suffered an injury. However, McGregor has proved himself to be one of the best across all the divisions in which he has fought so far.
Watch: How Conor McGregor Suffered His First Loss in MMA
During UFC 205 Press Conference
"I feel [the fans] are going to see something they haven't seen before. I'm going to toy with this man. I will rearrange his facial structure. His wife and kids won't recognize him again. His friends will know he's not the same after this contest. […] You're never, ever going to be the same. Your kids are going to beg 'daddy, please don't go again!'"
McGregor addressed Eddie Alvarez when he spoke about restructuring his opponent's face. He came true on his words when he captured the lightweight title via knock out in the second round.
When McGregor took on Max Holloway at UFC Fight Night
"There's two things I really like to do and that's whoop ass and look good. I'm doing one of them right now and on Saturday night, I'm doing the other."
In just his second match under UFC, McGregor welcomed the press with one of the best lines in MMA history. McGregor won against Holloway via unanimous decision.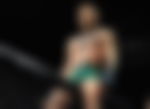 On his devastating loss to Nate Diaz
"It's a tough pill to swallow but we can either run from adversity or we can face our adversity head-on and conquer it. And that's what I plan to do."
McGregor was humble in defeat as he promised his fans to come back stronger after a shocking loss to Nate Diaz at UFC 196. 
On becoming a two-division champion
"I've ridiculed everyone on the roster, I just want to say from the bottom of my heart, I'd like to take this chance to apologize …to absolutely nobody!"
McGregor was sarcastic enough to take a dig at all the fighters by becoming the first fighter to hold championship belts in two divisions simultaneously. 
In reply to Jeremy Stephens
"Who the fook is that guy?"
Perhaps one of the most famous lines that ruled the internet memes and made Stephens look like a joke in front of everybody. One of the most iconic lines came at UFC 205 presser, ahead of Conor's match against Eddie Alvarez. 
McGregor on his big name
"I can make you rich. I'll change your bum life. You fight me, it's a celebration. When you sign to fight me, it's a celebration. You ring back home, you ring your wife, 'Baby, we've done it. We're rich baby. Conor McGregor made us rich. Break out the red panties.'"
ADVERTISEMENT
Article continues below this ad
McGregor loves bragging. However, every fighter who has gone onto fight against McGregor has always seen a huge jump in his purse.
After his win at UFC 202 against Nate Diaz
"Surprise, surprise, motherfuckers! The king is back!"
ADVERTISEMENT
Article continues below this ad
Conor McGregor sent a scathing reply to the entire UFC when he fired back at Diaz and the company after winning the rematch against Nate Diaz at UFC 202. Conor lost to Diaz at UFC 196 and received backlash and ridicule from many fighters.
Which is your favorite line from Conor McGregor?