WATCH: Glover Teixeira Chokes Out Thiago Santos After Getting Knocked Down with a Devastating Punch
Published 11/08/2020, 2:27 AM EST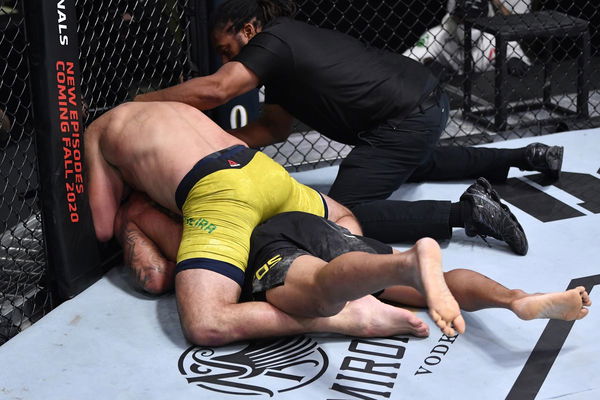 ---
---
UFC Vegas 13 is in the books and Glover Teixeira put the division on notice with a statement RNC submission win. The 41-year-old Brazilian veteran is now five-wins deep in the light heavyweight division with his win over Thiago Santos. Additionally, he's now the clear-cut title contender in the 205-pound division and will likely face-off against Jan Blachowicz next.
ADVERTISEMENT
Article continues below this ad
He's finished 27 out of his 31 victories, nine of which have come via submission. It is clear that Teixeira is one of the best grapplers currently on the UFC roster. Despite the fact that he got rocked by Santos, he used his grappling to secure a comfortable submission victory.
ADVERTISEMENT
Article continues below this ad
The top-heavy pressure and ground strikes were chipping away at Santos' will and he couldn't help but submit. The end came with a clean tap at 01:49 of the third-round.
UFC Vegas 13: Thiago Santos vs Glover Teixeira
Teixeira dominated the ground game once the fight hit the canvas and had accrued over five minutes of ground time before the end of round two. The power Santos possesses is second to none, and he used it to great effect against Teixeira. 'Marreta' dropped Glover every time he landed, but the 41-year-old was resilient.
ADVERTISEMENT
Article continues below this ad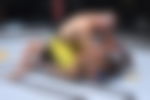 The aging veteran's chin and durability could be a concern as he's been knocked down frequently. This will be a critical viewing point when he faces Blachowicz, who's a powerhouse in every sense of the word. Moreover, it is his strength and experience that has helped him overcome adversity to eventually pull out the win.
Thiago Santos almost managed to put away Glover in the opening moments of the first round. Chiefly, it seems as though his wrestling leaves plenty to be desired, as Glover took him down at will. In a competitive division, 'Marreta' will have to round-out his arsenal to make sure he gets back into contention.
ADVERTISEMENT
Article continues below this ad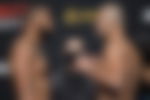 Glover Teixeira has now beaten a man who many believed was the toughest test of Jon Jones' career. Thiago Santos went toe to toe with the consensus GOAT and narrowly lost a split decision. The number three ranked contender in Glover Teixeira can expect to move up to contention when the rankings come out.