VIDEO: Insane Spinning Elbow Stuns Dominick Reyes in Epic Fight at UFC Fight Night
Published 05/02/2021, 12:48 AM EDT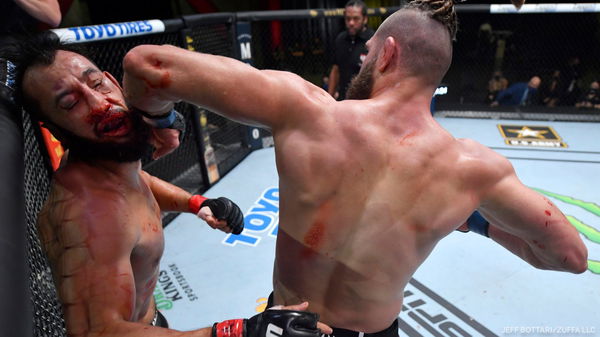 The intensity inside the Apex Facility was tense, to say the least, as the main event fighters made their walk to the octagon. Dominick Reyes entered the building with a desire to snap a two-fight skid while Jiri Prochazka was looking at a fast-tracked performance. MMA fighters and fans took notice of the highly anticipated light heavyweight scrap and shared their views online.
The fight delivered in a massive way as Jiri Prochazka ended the proceedings with a devastating spinning back elbow. Reyes ate the shot on the chin and went down like a falling stack of cards.
'Denisa', who has announced himself as a formidable presence, is an immediate threat to fight for a title.
Dominick Reyes took several minutes to recover from the blow, and fans were concerned with the way he fell. Chiefly, he crashed onto the canvas face first and seemed to land on his neck. With the loss to Prochazka, he's now on a three-fight losing streak and will be out of action for a while.
Jiri Prochazka: On the fast-track to UFC gold
The fight produced high octane action right from the get-go, as the MMA community couldn't get enough. Both men were throwing heavy leather. However, Prochazka was getting the better of the close exchanges. Dominick Reyes did well to constantly fire back and caught Prochazka coming in on multiple occasions.
MMA Twitter erupted after Prochazka walked away with the win, and several stars shared their immediate thoughts. Derrick Lewis said what was on a lot of people's minds as the light heavyweight division just got a new contender.
Despite having a wild fighting style, Prochazka stays out of harm's way and lands the devastating finish.
The manner in which Prochazka sparked Reyes to the canvas is something that the MMA world was swooning over. Reyes is a tried and tested commodity in the UFC, and he's a proven championship-caliber fighter. Now, there's no doubt that Jiri Prochazka will have everyone's attention the next time he steps inside the octagon.
Jiri Prochazka is now on a 12-fight win streak and has two highlight-reel KO's in the UFC. He last was defeated by King Mo all the way back in 2015, and he's clearly on a roll. Few fighters can match the dynamism he brings to his striking, and his iron-clad chin is an additional benefit. Fellow divisional contenders and fans will be on the lookout to see whether he's the immediate next in line with just two UFC fights.