Dustin Poirier was supposed to fight Nate Diaz at UFC 230 in Madison Square Garden. However, the fight fell apart due to Poirier pulling out of the fight.
On ESPN's Ariel Helwani's MMA show, Dustin Poirier explained why he turned down the fight with Nate Diaz. He said that the fight was already dead before he pulled out. Poirier revealed that he denied fighting anyone else besides Diaz. More than a year later Poirier revealed the truth behind his pullout.
Dustin Poirier explains why he "pulled out" of the Nate Diaz fight
Poirier said that he was facing a hip injury when he was scheduled to fight Diaz. When Helwani asked Poirier why the fight fell apart, Poirier said that Nate was over negotiating and had some contractual issues to deal with. He also revealed that the UFC was upset with Diaz.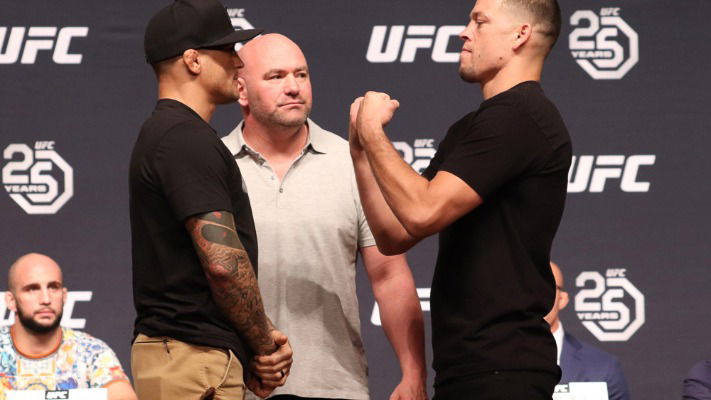 Poirier also revealed that it will not bother him if he does not fight Diaz before his retirement.
"I'm still a fan of the guy, when he fights, I'm gonna watch. But when it's all said and done I'm not gonna look back and say, damn I wish I would have fought Nate. It's cool if I do, if not…I've had some good ones."
Dustin Poirier also revealed that UFC recently offered a couple of fights to Nate Diaz. However, Diaz's camp did not respond to any of the offers according to Poirier. One of those fights was the fight with Dustin Poirier.
Read: "Where is the Pain": Dustin Poirier's Emotional Gesture Following Loss to Khabib Nurmagomedov
A fight between Nate Diaz and Dustin Poirier would have been a close one. Diaz's non-stop pressure would have caused serious problems to Poirier. Diaz has amazing cardio, he can throw non stop combinations at one go. On the other hand, Poirier has crisp boxing skills with decent power to hurt anyone in the division.
In the past, Poirier was able to beat Max Holloway twice, Holloway also has a similar fighting style like Diaz. They try to overwhelm their opponents with pressure.
Who do you think would've won if this fight had happened? Do you feel that we may get to see Diaz vs Poirier in the future?
Continue the conversation on Telegram, join other MMA fans on MMA Fans Group