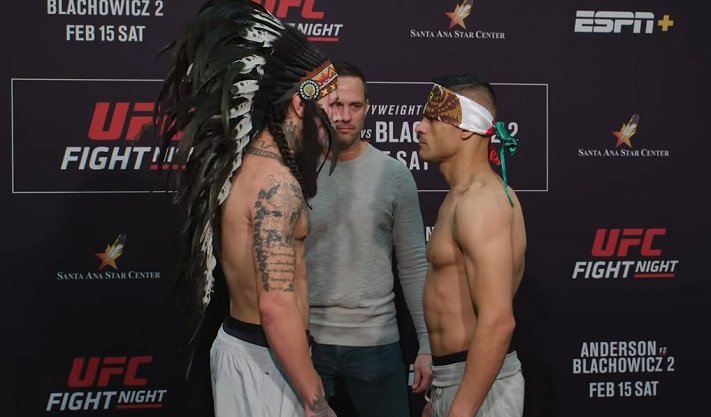 Kazula Vargas took on Brok Weaver in the third fight of the main card at UFC Fight Night 167. It took place inside Santa Ana Star Center in Rio Rancho, New Mexico. Vargas was coming off a loss from his previous fight whereas Weaver was victorious in his last venture.
Round one took off with Vargas on the front foot trying aim for the body. He lands a low kick and catches Weaver's kick. Vargas then fires a flying knee and opens up on the fence. He shoots for a takedown and ends up in half guard.
Weaver went for the guillotine against the fence and lost it. Two minutes in and Weaver was still stuck on his butt. Vargas then got his head free.
Vargas started to throw short punches. Weaver gets to his feet and attempts a power guillotine and attempts an unsuccessful kimura afterwards.
Kazula Vargas Knocks out Brok Weaver
As Weaver was trying to get to his feet, Vargas lands a knee, knocking Weaver out. However, Weaver wakes up and claims to be fine but the referee calls off the fight. Weaver was granted the victory due to disqualification.
Kneeing a downed opponent is illegal in MMA. Who is defined as a 'downed opponent' varies from state to state.
After an illegal knee in the first round, Brok Weaver wins via DQ #UFCRioRancho pic.twitter.com/jusGRuXUdO

— ESPN MMA (@espnmma) February 16, 2020
Do you think the referee made the right call by not letting Weaver continue? Was the illegal knee intentional?
Watch: John Dodson Finishes Fight With a Lightning Fast TKO
Continue the conversation on Telegram, join other MMA fans on MMA Fans Group