Watch: Joe Rogan Recalls Heartbreaking Moments of Jose Aldo Weeping After the Loss to Conor McGregor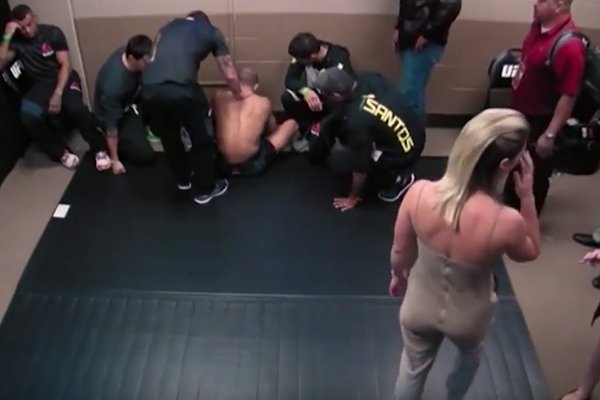 In one of the biggest fights in UFC history, Conor McGregor took on Jose Aldo. Arguably the greatest featherweight champion of this sport, Jose Aldo defended his featherweight title against the interim champion, Conor Mcgregor.
Going into this fight, Aldo and McGregor traveled across many cities to promote this fight. And during the press conferences, Conor was taunting and insulting Aldo, something that was not usual for the Brazillian champion.
Aldo was undefeated for close to a decade before the fight with McGregor. He fought some of the best fighters this sport had to offer and came out victorious. For all those years he was seen as a legend who could never be beaten. But Conor McGregor stepped into the octagon with Aldo and broke that aura of invincibility surrounding Aldo.
McGregor knocked him out in just 13 seconds. There were very few experts or very few fighters who were picking McGregor to win before the fight and rightfully so. However, Conor defied the odds and created a history that night. McGregor would go on to become one of the biggest stars of combat sports.
Read: Dana White gives an update on Conor vs Khabib rematch
Jose Aldo after the loss to Conor McGregor
And that's how this sport goes. One man wins the fight and moves on with bigger and better things. However, one man falls short and tries to bounce back. Former lightweight champion, Frankie Edgar showed up on JRE podcast and when Rogan talked about what fighters had to go through after a loss and brought up the horrific memories of Aldo weeping in the locker room after the loss to McGregor. Rogan said:
"The emotional side of fighting, the emotional side of loss is when you see guys weeping in their locker room. The hardest one for me is when Aldo after McGregor knocked him out. And he was just in his locker room weeping. That was the first that anybody ever really disrespected Aldo. Because Aldo was the f****g man for so long."
Frankie Edgar was expecting to fight the winner of Aldo vs McGregor for the title and hence he was there watched in the arena to watch the fight. Edgar said:
That's a tough one too. Cause you know that that's gonna stay like an infamy. Conor is probably the worst guy cause he is gonna tell everybody about it and everybody is gonna cover it. That's how it goes.
Well, after the fight with Conor, Aldo lost some and won some in the featherweight division before moving down to bantamweight for a showdown with former number one title contender, Marlon Moraes. Though Aldo lost the fight via decision many fans including Henry Cejudo and Conor McGregor believed that Aldo won the fight. And it's very likely that he will challenge the Kin of Cringe, Henry Cejudo for the bantamweight title.
Continue the conversation on the app, join other MMA fans on MMA Fans App