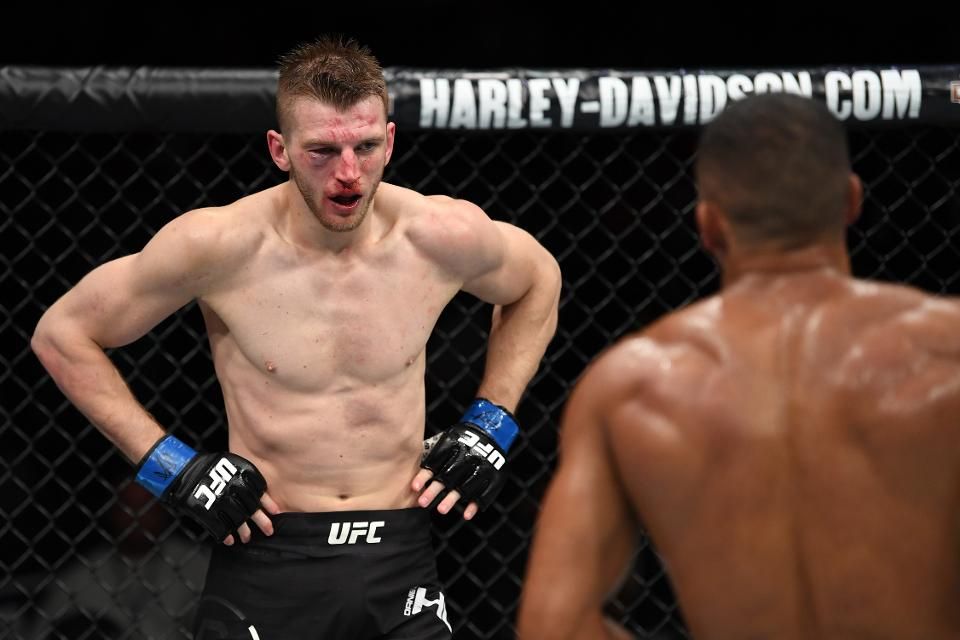 Dan Hooker might have lost to Edson Barboza at the UFC on Fox 31 co-main event, but it was a fight that he can be proud of. It took a lot from Barboza to take down a tough Hooker.
As the fight went to the final round, Barboza kept attacking an already wounded Hooker. But "The Hangman" kept getting up. By then, many were of the belief that the fight should have stopped. But Hooker carried on.
Just over two minutes into the final round, Barboza landed a left hook to the body that finally dropped Hooker, ending the fight. UFC President Dana White was among the many who praised Hooker's toughness. However, he also criticized the referee for keeping the fight on until such a situation.
"He's got nothing to be upset about. He showed a ton of toughness tonight, a ton of heart," White said of Hooker after the fight. "Fight actually should have been stopped earlier than it was."
"And Edson Barboza? Wow," he added. "That kid came out tonight and made a statement. He's nasty."
Dan Hooker and Paul Felder go face to face before UFC fight night 168
Currently, Hooker is set to face "The Irish Dragon" -Paul Felder- at UFC Fight Night 168 in New Zealand. Prior to their fight scheduled on February 22, they have already had two face-offs.
The first time Dan Hooker and Paul Felder came face-to-face was at a promotional event and it got intense.
INTENSE!! @FelderPaul and @DanTheHangman square off for the first time ahead of #UFCAuckland! pic.twitter.com/ML9Khf8dyA

— UFC Europe (@UFCEurope) December 4, 2019
Their second face-off, however, wasn't as intense.In fact, they took part in a traditional Maori greeting, which is known to have been originated from place of peace. In the greeting called hongi, the fighters greeted one another by touching noses.
"The Marae is a place of peace. You can't bring any tension like that to a Maori. It would be incredibly disrespectful of me to push him or shove him or disrespect him in any way and deny the hongi," Hooker, who hails from New Zealand explained the greeting further.
"I am a man of respect and I had to give the hongi because I respect the Maori culture so much and I respect the people, this is their land and their culture," he added. "So you have to abide by it. I have too much respect for the Maori culture to do anything silly or disrespect."
Continue the conversation on Telegram, join other MMA fans on MMA Fans Group