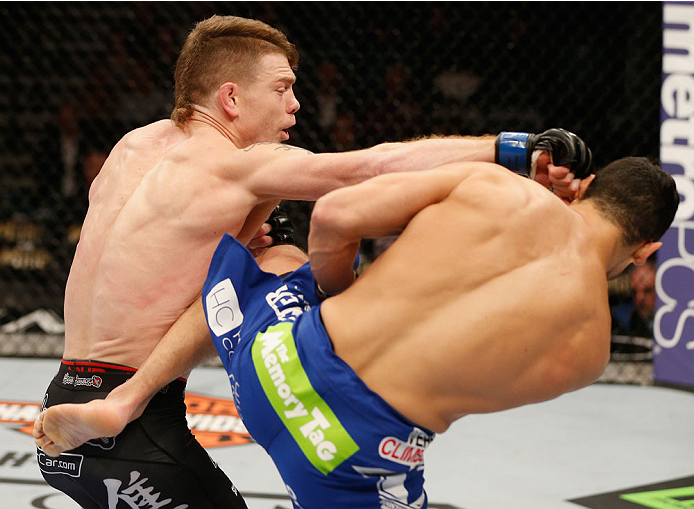 UFC 182 in 2015 had some big names like Jon Jones and Daniel Cormier. Very few would notice the fight between Paul Felder and Danny Castillo among such high profile fights. But a fancy knockout from Felder attracted some eyes towards the fight.
Two minutes into the second round, Felder gave a spinning back fist to an approaching Castilo. Felder gave a few more blows but Castillo was already knocked cold.
Is Paul Felder currently under Conor McGregor's radar
Since the fancy knockout win in 2015, Felder got a bit more attention in the fighting world. He became well-known as "The Irish Dragon".
Most recently, he caught the attention of Conor McGregor. McGregor was in the bout for a fight against Donald Cerrone in the UFC 246 main event. Felder was working as a cage-side commentator on the night. Shortly after finishing the fight, McGregor targeted a few fighters among whom was Paul Felder.
McGregor referenced people sitting cage-side as "mouthy fools", and said "f**k you" as he passed by the Felder post-fight.
At the time, Felder wasn't sure whether McGregor was actually talking about him.
"I was there like what? Is he talking about me?" Felder told MMA Fighting. "Some people are saying he was talking about me. Other people were saying he was talking about [Kamaru] Usman or [Jorge] Masvidal. At the end of the day, it doesn't really matter. It got me plenty of attention even if it wasn't meant towards me. It doesn't matter. But we're having fun with it."
Felder is currently scheduled to fight Dan Hooker at Fight Night 168. He said that he would currently be concentrating on the fight against Hooker rather than a potential fight against McGregor.
"I'm like, guys, it's a joke," he said. "I'm not fighting Conor right now, I'm fighting Dan Hooker. Relax."
Continue the conversation on Telegram, join other MMA fans on MMA Fans Group