Upbeat Sharapova airs laundry mix-ups in public
Published 01/16/2016, 4:30 AM EST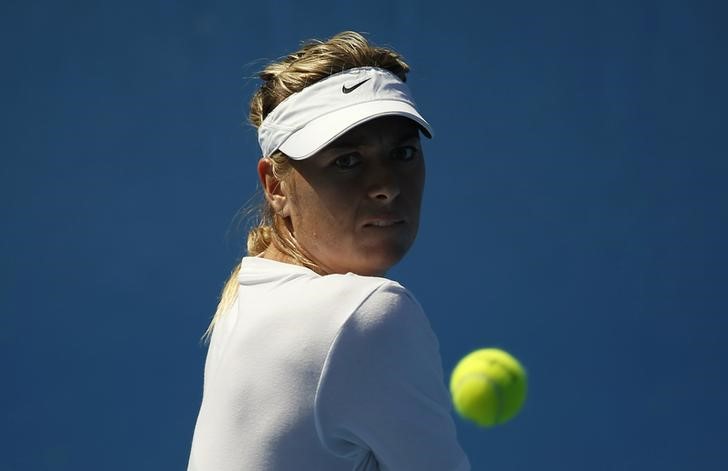 ---
---
MELBOURNE (Reuters) – Maria Sharapova says her Australian Open preparations have gone smoothly despite her lack of recent on-court action, all barring a mix-up at the Melbourne Park laundry over a pair of leopard print underwear.
ADVERTISEMENT
Article continues below this ad
Sharapova, Australian Open champion in 2008, pulled out of her title defence at the Brisbane International two weeks ago because of a left forearm problem, one of a string of injuries to have dogged the 28-year-old since the middle of last year.
Nevertheless, the fifth seed said she was good to go in her bid improve on her runner-up finish to Serena Williams in her fourth Melbourne final last year.
ADVERTISEMENT
Article continues below this ad
"I feel really good. Got to Melbourne earlier than I wanted to. But it gave me a chance to practise here this week. Had great days on a lot of the courts," the Russian told reporters on Saturday.
"I've always been someone that's been able to treat their practice as something meaningful, there's something on the line, you're not just going through the motions.
"That's one of the reasons I believe in myself knowing, okay, I may not have played five matches in Brisbane, but if I commit myself, train well, get some practice sets in, I know with that mindset I'll be able to (compete).
"Yes, I might be rusty, make a few more unforced errors than I would like, but I'm ready to go."
Sharapova, who starts her campaign against Japan's Nao Hibino, said not even playing a warm-up event could prepare a player fully for the challenges of a tournament opener.
"First matches at a grand slam … it's always tricky, especially going into a match against somebody I've never faced before," she said.
"There's a lot of new things. You have to have a little bit of a different perspective and figure things out quickly as soon as you can."
One thing Sharapova perhaps had not expected on Saturday was a question about laundry mishaps but happily she had an anecdote immediately to hand after the quirky inquiry was made.
ADVERTISEMENT
Article continues below this ad
"I actually just returned a pair of underwear that wasn't mine, like 45 minutes ago. Funny you ask that," she laughed.
"It was a female pair of underwear, not male. It was leopard. I'm like, 'that's not mine'.
"Any more laundry situations I need to clear up before we get on with our day?"
ADVERTISEMENT
Article continues below this ad
(Reporting by Nick Mulvenney, editing by Peter Rutherford)
More from EssentiallySports on Australian Open