Update on F2 Spa Crash: Juan Manuel Correa Suffers Spinal Injury and Multiple Fractures
Published 09/01/2019, 12:51 AM EDT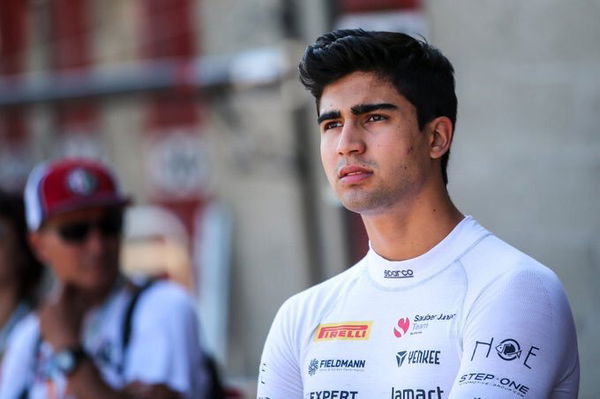 ---
---
The world has turned upside down for the world of motorsports. The fans, mechanics and drivers, we are sure would have been so much looking forward to this weekend at the Belgian Grand Prix, returning to their beast of a machine after weeks. However, the horrid crash involving Juan Manuel Correa and Anthoine Hubert leading to the tragic death of Anthoine Hubert has showcased us all the risks and dangers associated with motor racing.
ADVERTISEMENT
Article continues below this ad
The videos and images published online right after the crash painted a very grey picture. Driver safety was questioned from the very beginning. The FIA declared Anthoine Hubert nearly one hour after the crash. However, Juan Manuel Correa survived and was instantly rushed to the hospital. He was declared stable very soon.
Now, it has been revealed that the American driver has suffered multiple fractures on leg and a spinal injury as well. He has already undertaken surgeries and is now in intensive care unit while awaiting further checks.
ADVERTISEMENT
Article continues below this ad
He was carried to the hospital in the medical hospital and was reported conscious throughout. Lets hope he pulls through and we see him racing very soon.
An official statement from Correa's media team is as follows:
Today, American Juan Manuel Correa was involved in a scary incident at the Belgium Grand Prix at the Spa-Francorchamps in Belgium. A victim of an accident that happened in front of him, Correa had no place to go and made contact with a fellow competitor's stopped FIA Formula 2 car. Suffering fractures to both of his legs and a minor spinal injury, Correa underwent surgery and is resting in Intensive Care.
ADVERTISEMENT
Article continues below this ad
At the current moment, Juan Manuel Correa's condition is stable. He was taken by helicopter to a hospital where he underwent surgery. Juan Manuel remained conscious the entire time until his admission to the operating room.
While you keep Juan Manuel in your thoughts and prayers, please also pray for the well being of Anthoine Hubert's friends and family. In motorsports, we are a family, and we lost one of our family members today.
More updates on Juan Manuel's condition will be made public when available.
ADVERTISEMENT
Article continues below this ad
While tributes pour in for Anthoine Hubert, our prayers also go out to Juan Manuel Correa in a hope that he recovers very soon and finds the strength and courage to come back to racing very soon.