Why Clint Frazier Went to the Chicago Cubs
Published 12/16/2021, 9:37 AM EST
---
---
Clint Frazier, after a troubled 5 seasons spent in New York, will now call Wrigley Stadium home in the 2022 season. After he was designated for assignment by the New York Yankees, the Chicago Cubs have signed him on a 1 year contract for $1.5 Million. The contract was confirmed before the lockout and Frazier will now be them as their outfielder.
ADVERTISEMENT
Article continues below this ad
When asked for the reasons for the switch, Frazier has stated a multitude of reasons. Apart from a lack of game time at the Yankees where his most prolific season came in 2019 – hitting 12 homers in a career high 69 games for the Yankees – Frazier has been a presence on the bench for long durations.
ADVERTISEMENT
Article continues below this ad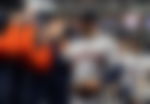 Frazier at the Yankees
Clint Frazier, now 27, signed onto the Yankees but had a slightly off and on record with injuries since his collision with an outfield wall in 2018, and other various unspecified issues that the club diagnosed as vertigo, including dizziness.
In 2021, he appeared in 66 games for the Yankees and had a 0.633 OPS. Recently, Clint revealed that the transfer out of the New York Yankees has more to it than what meets the eye.
id love to have the opportunity to talk about this situation publicly and probably plan to do so soon — my issues have been very personal to me and something i've wanted to handle privately but there's been a lot of inaccurate things reported about my injury that i'll clear up. https://t.co/4Ju9ZGUhcA

— Clint Frazier (@clintfrazier) October 11, 2021
Signing for the Chicago Cubs
The outfielder appeared on "The Short Porch" podcast on Barstool Sports where he listed a number of reasons which made the Cubs a favorite to sign him. Among these were the various organizational commonalities. The Cubs' manager, Carter Hawkins was a man in charge of  Cleveland's farm system around when Frazier came through that organization, his agent had had also previously represented the Cubs' David Ross.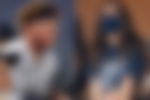 ADVERTISEMENT
Article continues below this ad
And add to all this, his fiancé having gone to Loyola College, near Chicago, was familiar with the city as well. Plus, she is great friends with Nick Madrigal's partner. Nick is second baseman in the Chicago roster.
Read More: How does Derek Jeter spend his millions as a top 25 paid athlete
Frazier was also extremely grateful to his agent whom he credited with being extremely helpful through the process and not mincing his words in communication. He was straight up about the fact that Frazier was going to be DFA-ed and worked immediately on the possible deals to come out of this.
ADVERTISEMENT
Article continues below this ad
He said before that he wanted to sign before the lockout because he wanted his situation to be sorted before getting into the lockout and was clear that there would be a few teams vying for his services in the midst of this upheaval.
Frazier is excited for his Cubs career and so are we. Tell us how he well you think he will do at the Chicago Cubs in the comments below!