US Olympic Legend Allyson Felix to Star in Exciting New Atheltics Investor-Pitch Show
Published 11/04/2021, 2:36 PM EDT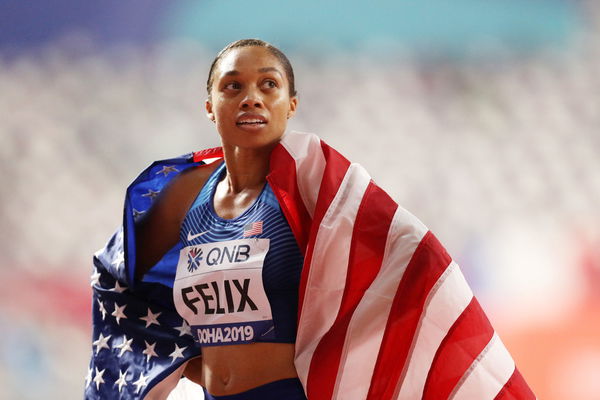 ---
---
The 5-time Olympic medalist, Allyson Felix, turned towards the sport in the ninth grade and has never left the track since. Notably, she recorded her personal best in the 100 meters at the 2012 London Olympics. Recently in the Tokyo 202o Olympics, she performed her 2nd personal best and was crowned as the most decorated athlete in the history of the sport.
ADVERTISEMENT
Article continues below this ad
Struggling through the odds, Felix successfully managed to balance her life as an athlete and a mother. Ending her long-term partnership with Nike, she launched her own brand 'Saysh' which focuses on female athletes, mothers, and women in general.
ADVERTISEMENT
Article continues below this ad
Now, Allyson Felix will soon star in "Front Office", a fresh PlayersTV series that will be launched in mid-November.
Felix as a star cast in PlayersTV
PlayersTV showcases the lifestyles and entertainment of the sports world. It is the first-ever athlete-owned media network.
On 3 November, PlayersTV announced the star sportspersons and release date for their upcoming new series 'Front Office'. NBA All-star and PlayersTv investor, Chris Paul and his company, Ohh Dip! Productions will exclusively produce the show.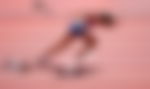 Among other stars, the show will include Olympic track and field legend, Allyson Felix.
The series will be presenting different well-known sports personalities throughout the season. The American track and field legend, Allyson Felix has made her way to the list of special guests of Season 1. The show will also see the likes of NBA player Chris Paul, NFL players Vernon Davis and Travis Kelce, professional golfer Michelle Wie-West and former NFL Player Wale Ogunleye.
The series will involve budding entrepreneurs who will pitch different business ideas to the sportspersons. The athletes will decide whether they want to proceed with the idea or not.
"This season of 'Front Office' will showcase an array of compelling businesses and the people behind them," said Paul.
"The series brings the athlete into the boardroom and the audience gets a glimpse of the diligent business practices of professional athletes," he added.
The companies taking part will represent different sections, which also include solving problems, such as sustainability, education, and technology.
"I am more than an athlete": Allyson Felix
After breaking it off with Nike, Felix paired up with 'Athleta'. Athleta is an organization mainly focusing on women's clothing and other accessories in the world of sports and fitness.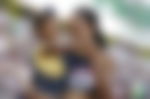 Allyson Felix feels she made a great decision by partnering up with Athleta. The reason behind this is the amazing treatment and support women get here, not just as athletes but as women and mothers, too.
ADVERTISEMENT
Article continues below this ad
"It's really numbers, making world championship teams, making Olympic teams, and everything is tied back into how well your numbers look like and that is how you're rewarded. This is a completely different approach," said Felix.
Felix feels supported by the organization; because it cares about her and not just her performance.
"As a mother, as an activist, all these different parts of who I am, I'm more than an athlete. And it's amazing to be supported in that way and to be able to partner and to create things together, to have values aligned and to do more than just perform."
ADVERTISEMENT
Article continues below this ad
Following in the footsteps of Felix, star gymnast Simone Biles has also signed a deal with Athleta. This comes as a major step, which might make other brands like Nike take account of their actions.