Atlanta Braves' Player Uses Stolen New York Yankees Star's Bat to Light Up MLB Postseason
Published 10/18/2021, 9:45 AM EDT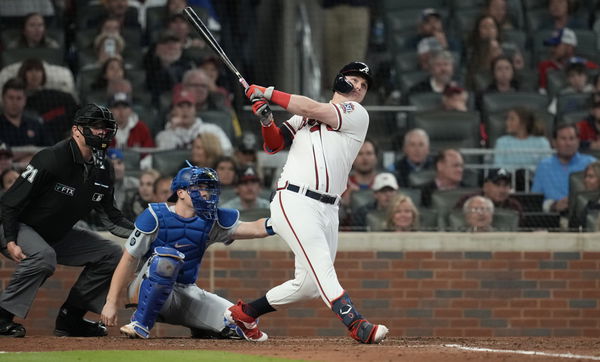 ---
---
The Atlanta Braves put on an impressive performance to pull off another stunning victory over the Los Angeles Dodgers in Game 2 of the NLCS yesterday. One of their heroes last night was right fielder Joc Pederson, who joined them midway through the ongoing MLB season.
ADVERTISEMENT
Article continues below this ad
While the 29-year-old continued his exceptional form in the postseason, he benefits from a piece of equipment he brought with him to the Truist Park. And the credit for that goes to none other than his former teammate at the Chicago Cubs, Anthony Rizzo.
ADVERTISEMENT
Article continues below this ad
Joc Pederson uses one of Anthony Rizzo's bats in this year's postseason
The pair started the 2021 season as teammates for the Chicago Cubs. Although they had a short association as teammates, Pederson benefitted from his time with the Cubs by playing alongside a great hitter like Rizzo.
In July, the Cubs traded the 29-year-old to the Braves, while they did the same with Rizzo to the Yankees. Although the Yankees failed to beat the Boston Red Sox in the postseason, Pederson ensured Rizzo continued to feature in the playoffs by using his bat.
Prior to the ongoing NLCS, the Braves faced the Milwaukee Brewers in the NLDS. In Game 3, Pederson smashed a massive three-run home run with Rizzo's bat to give his team a game winning 3-0 lead. He continued to produce excellent performances with the bat, smashing a game-tying two-run home run against the Dodgers yesterday.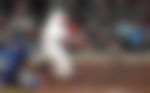 Last week, Pederson mentioned he stole Rizzo's bat in his time at Chicago while thanking him for it. He said, "I stole it from him when we were in Chicago. It has a lot of hits in it, so thanks Big Horn."
ADVERTISEMENT
Article continues below this ad
Can the Atlanta Braves clinch a crucial 3-0 lead on Tuesday?
After two games in the Truist Park, the series now moves to the Dodger Stadium in LA. Although the Braves showed their grit in Atlanta, the Dodgers are a formidable side at home.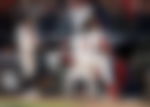 The reigning World Series champions can also take heart from the fact that they lost the first two games by very narrow margins. While the Braves have a talented squad, it's highly likely the Dodgers will take them to either six or seven games in this series. Game 3 takes place on Tuesday, October 19.
ADVERTISEMENT
Article continues below this ad