"F*** No, God No" – New York Yankees Fans Rebel as Coach Aaron Boone Extends Contract
Published 10/19/2021, 1:25 PM EDT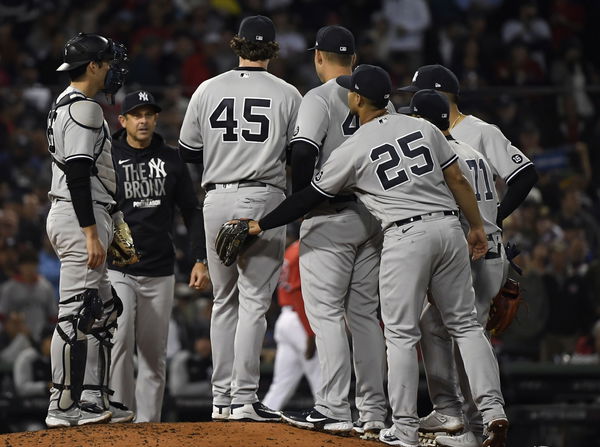 ---
---
Earlier this month, the New York Yankees saw their bid to end their World Series drought fail. With a loss to the Boston Red Sox in the AL Wildcard game, many wondered where do the Yankees go from here.
A few hours back, they gave their answer by tying down their current manager Aaron Boone to a new contract. This announcement from the 27-time World Series champions drew vastly varied reactions, with many fans taking to social media to express their feelings.
Fans express disappointment as New York Yankees re-sign Aaron Boone
Since joining the Yankees in 2018, Boone won 328 out of 546 matches in charge of the iconic outfit. In addition, he also led the Yankees to a spot in the MLB playoffs in every season since joining them. However, the Yankees' failure to win a World Series despite having an extremely talented roster saw fans express their displeasure on several occasions.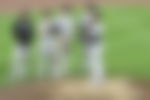 Earlier today, the Yankees announced Boone will remain their manager until the end of 2024, along with a club option to extend the contract till 2025. While the organization believes Boone is their future, fans didn't quite agree with them.
In fact, many of them took to Twitter to express their displeasure. While some of them got creative, others were blunt in making their opinions clear.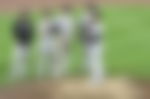 However, some fans continue to back Boone
Despite a fair amount of criticism directed towards the 48-year-old, some fans supported the Yankees' decision to retain him. Instead, they pinned the blame of their team's failure on those heading it.
Although the Yankees are in a difficult spot at the moment, they have some of the best talents in the MLB. While they have Aaron Judge and Giancarlo Stanton among other superb hitters, their bullpen also has excellent depth. Despite Gerrit Cole's postseason struggles, the former Houston Astros pitcher ranks among the best in the MLB, which he showed in the regular season.
Whether or not Boone can end the Yankees' World Series drought in 2022, only time will tell. However, one can only hope this unruly reception from fans doesn't affect his next tenure with the team.
WATCH STORY: Gerrit Cole, Giancarlo Stanton and More: Top 5 Highest Paid New York Yankees Stars 2021