"It's My Setup" – Vladimir Guerrero Jr. Reveals the Secret Behind His Award-Winning Hitting Technique
Published 11/10/2021, 7:45 PM EST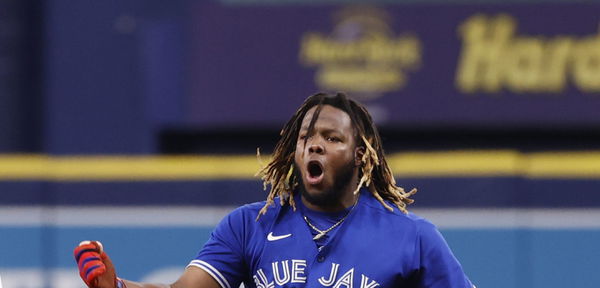 ---
---
Although the Toronto Blue Jays narrowly missed out on the MLB playoffs, they had several stars who helped them get to that position. One of those stars was none other than Vladimir Guerrero Jr., who won the prestigious Hank Aaron Award for his exploits in the 2021 season.
ADVERTISEMENT
Article continues below this ad
Following his acceptance of the award, the 22-year-old star spoke about his hitting technique which helped him achieve unprecedented success in 2021.
ADVERTISEMENT
Article continues below this ad
Vladimir Guerrero Jr. opens up on his incredible batting technique
In an incredible 2021 season, Guerrero Jr. made quite the impact with the Blue Jays. Despite competing in just his third MLB season, he produced some of the most incredible performances at the plate, keeping the Blue Jays in playoff contention till the last day of the regular season.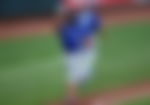 He played all 161 games of the Blue Jays' season, in which he amassed incredible numbers. The Canadian-born star scored an astonishing 123 runs, of which 48 were home runs and recorded 111 RBI. While his batting average of 0.311 might not speak much, his 1.002 OPS displays just how effective he is as a long-distance hitter.
After sealing the Hank Aaron Award, Guerrero Jr. revealed his incredible batting technique in simple terms. He spoke about various aspects ranging from his stance to the balls he prefers targeting in order to get the best hits.
He said, "My back foot will stay on line with the home plate. It's my setup. So, I just try to stay in balance. My hand and my front foot is same, real simple. Just stay, be on time with my hands and my front foot. And then BAM!"
Guerrero Jr. explains why he prefers line drives to launch angles
During his interaction, the 22-year-old also admitted he balls right down the middle for line drives. He admitted to doing so since he wasn't a fan of launch angles, which many hitters prefer to score big hits.
ADVERTISEMENT
Article continues below this ad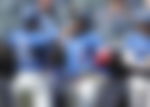 "I just try to hit the ball through the middle and line drive," he said. "I don't try to hit a ground ball or fly ball, I just try to hit it hard and land drive." 
"The key for me is hit a line drive. I tried that last year, hit a launch angle and all that and I didn't like it."
ADVERTISEMENT
Article continues below this ad
Guerrero Jr. winning this year's Hank Aaron Award clearly shows his immense talent as a hitter. And at just 22 years of age, he definitely has a glittering career ahead of him. Whether he can continue this form in 2022 and help the Blue Jays reach the postseason, only time will tell.