Jose Altuve Matches Derek Jeter Record With Huge Haul for Houston Astros vs Boston Red Sox
Published 10/16/2021, 8:45 AM EDT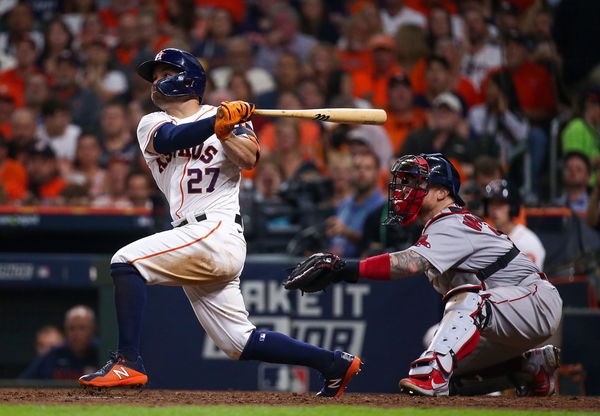 ---
---
Game 1 of the ALCS saw a tight contest between the Houston Astros and the Boston Red Sox unfold in Minute Maid Park. Despite the latter's best efforts, the Astros took a crucial 1-0 lead in the series, with Jose Altuve shining for them once again.
ADVERTISEMENT
Article continues below this ad
During the game, the Venezuelan smashed a massive home run, which displayed his incredible consistency in the postseason. Along with aiding the Astros to a victory, he moved up in the all-time career postseason home runs list.
ADVERTISEMENT
Article continues below this ad
Jose Altuve smashes 20th postseason career home run
The Astros scored the first run of this year's ALCS. A hit from Yordan Alvarez saw Altuve race home in the bottom of the first inning to give the home team a 1-0 lead.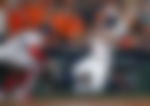 The Red Sox then scored three runs in the third inning to take a stunning 3-1 lead. Despite this setback, the Astros recovered in emphatic fashion starting from the bottom of the sixth inning. Stepping up to the home plate, Altuve smashed an 84mph pitch from Red Sox pitcher Tanner Houck straight into the stands on the left.
This two-run home run from the 31-year-old tied the game at 3-3 for the Astros. While it held great significance in changing the game, it was Altuve's 20th career postseason home run. This moved him up to third place in the all-time postseason career home runs, which he shares with former New York Yankees shortstop Derek Jeter.
Most HR in postseason history:

Manny Ramírez: 29
Bernie Williams: 22
Jose Altuve: 20
Derek Jeter: 20

— Sarah Langs (@SlangsOnSports) October 16, 2021
The Astros need three more wins to seal their spot in the World Series. Hence, one can only wonder how far up Altuve can go on this list in the coming days.
ADVERTISEMENT
Article continues below this ad
The Houston Astros will play Game 2 later today
Game 2 of the ALCS will take place in the Minute Maid Park later today, as the Astros will look to capitalise on home advantage to take a 2-0 lead.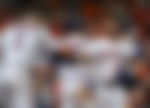 Following this game, the series moves to Fenway Park for a maximum of three games. Can the Astros head to Boston with a two-game cushion? Or will the Red Sox trigger the nerves of the AL West champions before welcoming them to Fenway Park?
ADVERTISEMENT
Article continues below this ad