San Francisco Giants Pitcher Uses This Genius Technique to Confuse Hitters
Published 10/13/2021, 9:45 AM EDT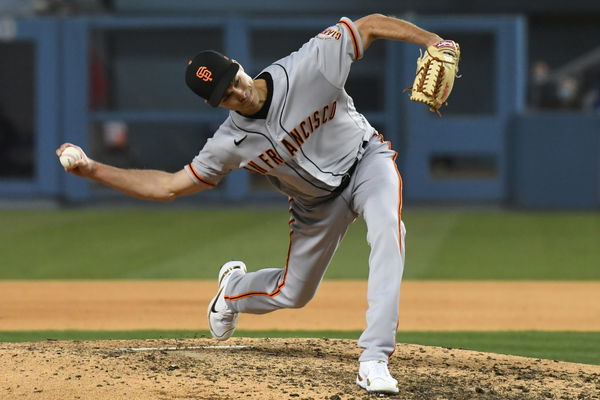 ---
---
Since joining the San Francisco Giants in 2019, Tyler Rogers has made quite the impression on the MLB. While he produced National League leading numbers in the past, he continued that trend this year as he pitched a staggering 80 games for the NL West champions.
ADVERTISEMENT
Article continues below this ad
The 30-year-old is one of few pitchers who uses the submarine action in the MLB. However, in recent times, his use of white shoes on the pitcher's mound has come into question.
How does San Francisco Giants pitcher Tyler Rogers benefit from wearing white shoes?
ADVERTISEMENT
Article continues below this ad
In the MLB, rules barring pitchers from wearing gloves with white, grey or any color which can be a distraction for the opponent are in place. While this exists for the pitcher's gloves, no such rules are in place for their shoes.
Since most pitchers use an overarm action, attention towards the impact of their shoes as a distraction is quite minimal. However, when submarine pitchers use their low-swinging action, there could be an issue in terms of their shoes being a distraction.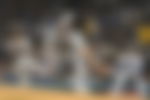 With the baseball being white, having white shoes could faze the hitter when a submarine pitcher tosses it. This is because the release point in this type of pitch is nearly at the same level as the shoe, which makes it difficult to judge for a hitter.
I'm sure he's wearing white shoes on purpose! Here's why ⬇️

There are rules against pitchers using white gloves to deceive hitters…

But no rules on white shoes for submarine guys that release the ball near their feet! You can't hit what you can't see! https://t.co/4X8FnZSHAc

— Justin Courtney (@jcourtney16) October 12, 2021
A hitter has less than half a second to make up his mind on whether to swing his bat or let the ball past. Hence, the margin for error is extremely narrow, which reduces even further when there's a distraction like this. Although most pitchers wear different colored shoes, Rogers' use of white shoes falls into a grey area of the rulebook.
Rogers explains the origins of his submarine action
During a recent interview, the 30-year-old explained how his junior college coach convinced him to use his current action. He said, "This was my freshman year in junior college. I was a conventional pitcher, I guess you could call it. Just over the top, like 86-88 (mph) you know, nice and straight.
ADVERTISEMENT
Article continues below this ad
"My coach approached me one day. He was like, 'Hey, what do you think about maybe dropping down throwing sidearm?' I was like, 'I don't hate the idea. Let's give it a shot.'"
"The first day I did it, it felt pretty natural. It was nowhere near as low as I am today, it was sidearm back then. Once I ended up in pro ball, I ended up seeing a picture of my release point and I was like, 'Am I that low?' I don't feel like I'm throwing that low in my mind. I still feel like I'm throwing sidearm."
ADVERTISEMENT
Article continues below this ad
Rogers' most recent appearance came in Game 4 of the ongoing NLDS between the Giants and the Los Angeles Dodgers. He pitched briefly in the bottom of the fifth inning as the Giants lost the game 7-2 to the reigning World Series champions.