WATCH: Final Out Seals the Deal as Atlanta Braves Go Wild After Victory Over Los Angeles Dodgers
Published 10/24/2021, 8:30 AM EDT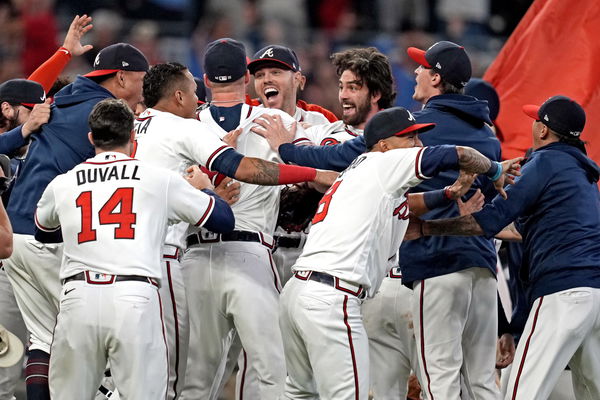 ---
---
The Atlanta Braves clinched the NLCS with an impressive victory over the Los Angeles Dodgers in Game 6 yesterday. Their 4-2 victory over the reigning World Series champions ensured they will go to the World Series for the first time in 22 years.
ADVERTISEMENT
Article continues below this ad
While they produced brilliant hitting and pitching, the winning moment came courtesy of some excellent play in the infield.
ADVERTISEMENT
Article continues below this ad
Atlanta Braves seal their first World Series appearance since 2019
Although the Braves' 88-73 regular season paled in comparison to the Dodgers' 106-56, the former produced impressive baseball in the postseason. While they had to come from 1-0 down in the NLDS against the Milwaukee Brewers, they took control of the NLCS from the get go.
With a 3-2 lead heading into Truist Park yesterday, the Braves started the game well. In the bottom of the first inning, Austin Riley made a hit which sent Ozzie Albies home, giving them a 1-0 lead. The Dodgers then tied the game with an RBI from Cody Bellinger in the top of the fourth inning.
In the bottom of the fourth inning, Eddie Rosario smashed a stunning three-run home run to give the Braves a massive 4-1 lead. Despite the Dodgers' best efforts, only Chris Taylor could add to their tally through an A. J. Pollock RBI before the final inning.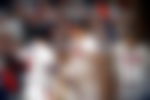 With the game on the line, Will Smith scored two strikeouts to bring the Braves closer to the finish line. They then ended the game with fine fielding from shortstop Dansby Swanson, who tossed the ball to first baseman Freddie Freeman to get Pollock out.
This moment sent fans in the Truist Park into euphoria, as their heroes pulled off a famous series victory.
ADVERTISEMENT
Article continues below this ad
The Braves will face the Houston Astros in the World Series
In their last World Series appearance 22 years ago, the Braves lost 4-0 to the New York Yankees. Their last World Series victory came in 1995, where they beat the Cleveland Indians 4-2.
On their return to the best-of-seven showdown, they will take on the Houston Astros. Despite their heroics against the Dodgers, many would believe they are the underdogs heading into battle against the Astros. Game 1 of the World Series will take place on Tuesday, October 26 at the Minute Maid Park in Houston.
ADVERTISEMENT
Article continues below this ad