WWE Legend John Cena and Arnold Schwarzenegger Look Unbelievably Similar in Unearthed Photo
Published 05/08/2022, 1:20 PM EDT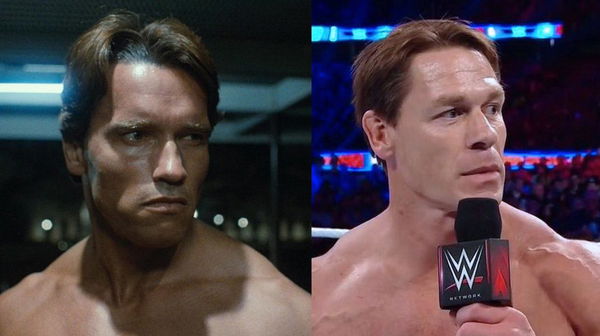 Arnold Schwarzenegger and WWE superstar John Cena have had a lot of comparisons over the years. Sometimes it's about who would win a fight, sometimes it's about who is the strongest and sometimes it's just about who is better looking? However, besides all the differences the two celebrities might have, here's something that might make you think the two are twins.
ADVERTISEMENT
Article continues below this ad
Arnold Schwarzenegger and John Cena are two of the big names in the world of bodybuilding and the strong men category. Even though the two have an age difference of 30 years, the comparison between these two mega-celebrities seems to be inevitable. However, on a hypothetical note, who do you think would win in a fight between the two in their primes?
ADVERTISEMENT
Article continues below this ad
Are Arnold Schwarzenegger and John Cena twin brothers?
Well, that surely is a ridiculous question to ask. However, according to a post shared by Teen Wolf actor Stephen Ford on Twitter, Arnold and John Cena are looking somewhat identical. The two even have the same hairstyle in the picture and their left profile seems to be completely twinning with each other. Have a look for yourself and decide.
Apart from the face, Arnold and John Cena have a similar height of 6'1. Though the two are definitely not twins, not even brothers for that matter. They are just two people who happen to share the same facial feature and it's purely a coincidence.
Arnold made a hilarious comment on NBA legend Shaquille O'Neal
Besides being one of the strongest men, Arnold is also undoubtedly an entertainer. He never misses an opportunity to have fun or to tease his friends. On a similar note, the bodybuilding legend shared a picture of himself with former NBA superstar Shaquille O'Neal. However, in the picture, he was obviously looking way smaller than Shaq, who is 7'1, but he meticulously turned that into a hilarious caption.
ADVERTISEMENT
Article continues below this ad
 

View this post on Instagram

 
ADVERTISEMENT
Article continues below this ad
WATCH THIS STORY- Every time Arnold Schwarzenegger Took Over WWE
Arnold wrote, "Great to see my friend @shaq in Columbus, although I don't know why he always insists on standing on a 2-foot box when he's with me." This is proof that the legend is not just good with weights, he is great with words as well.