Liv Golf Star Dustin Johnson Won Over His Father-in-Law Wayne Gretzky With a Perfect Tribute for the Hockey Legend Earlier This Year
Published 11/27/2022, 1:30 PM EST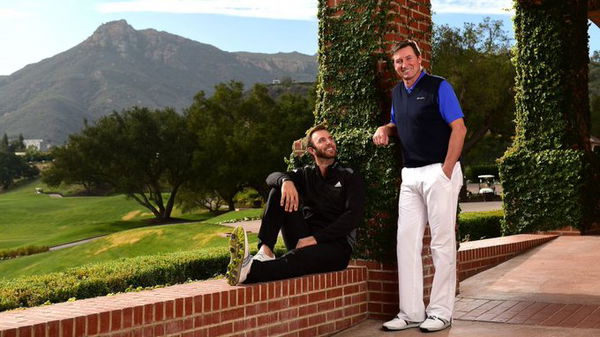 Dustin Johnson and Wayne Gretzky have been like family to each other for nearly a decade now. The key link between the two is Gretzky's daughter, who is also Johnson's wife, Paulina Gretzky.
While it may have become official and legal only recently, the two have been engaged since 2013. It is clear as day that Gretzky is quite supportive of Johnson's career. The two have even played pro-ams together.
ADVERTISEMENT
Article continues below this ad
Dustin Johnson honors his father-in-law
With the bond that the two share, it is no doubt that Dustin has immense respect for the ice hockey legend. Earlier this year, Dustin showed just how much he loves and honors his father-in-law.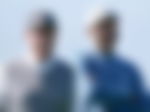 During the Genesis Invitational in February this year, Dustin wore a special pair of Adidas shoes. You might wonder what's so special about a pair of shoes. Well, what's special was what the shoe represented. The design of the Adidas TOUR360 22 shoes, worn by Dustin, perfectly commemorated Gretzky's career and achievements.
The White shoes with minimalist details might look ordinary at first glance. But if you'll look at it closely, you'll find the moments it holds. The orange and navy blue strip represent the team Gretzky won four Stanley Cups with; Edmonton Oilers. The number 99 on the shoe represented the jersey number Wayne had for the longest time.
Adding Dustin's personal touch to the shoes were the letters "DJ" inscribed on the left shoe. Later, Adidas introduced a hat with a similar pattern. The "99" hats were sold with the shoes from 25th February.
Johnson with the Gretzky Family
ADVERTISEMENT
Article continues below this ad
Dustin first met the Gretzky family in 2009 during an event. However, it wasn't until 2012 that the couple went out on their first date. It's still debatable if it could be considered a date since Papa Gretzky was there with the couple all along.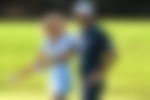 Later, the two officially started dating in 2013 and soon got engaged in the same year. The couple welcomed their first child, Tatum Gretzky Johnson, in 2015. They had their second son, River Jones Johnson, in 2017.
ADVERTISEMENT
Article continues below this ad
Watch Story: Paulina Gretzky Revealed How Her Dad Gave the Best Dating Advice Before She Married Dustin Johnson
In April 2022, the couple decided to finally change their status, after 9 years, from engaged to married. Dustin Johnson and Paulina Gretzky got married at a beautiful wedding at Blackberry Farm in Tennessee.
Edited By: Vineet Nandwana