US Track Sensation Erriyon Knighton vs World's Fastest Man Usain Bolt: Who Is Taller?
Published 05/01/2022, 9:15 AM EDT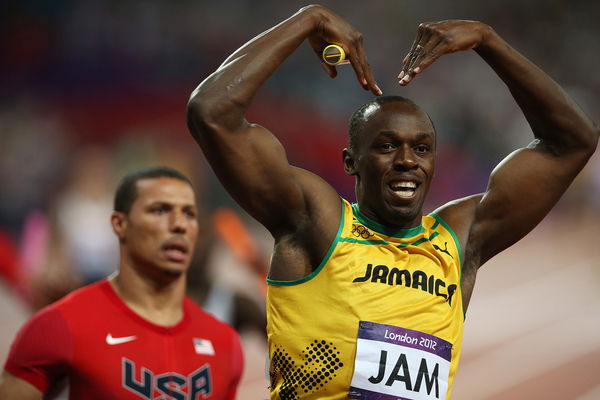 The track and field world knows Erriyon Knighton as the kid who broke Usain Bolt's world record. Since Usain Bolt is the benchmark for anything that is fast, the comparison is somewhat inevitable. However, this time, the comparison is not about who is faster, but rather who is taller between the two. Do you have any guesses?
ADVERTISEMENT
Article continues below this ad
Erriyon Knighton broke the long-standing junior record of sprinting legend Usain Bolt in the 200m last year. With 20.11 seconds on the clock, he was ahead of the Jamaican by 0.02 seconds. Though after a year of grooming and experience, he has become more fierce than ever. It appears that Knighton is going after Bolt's records one at a time.
ADVERTISEMENT
Article continues below this ad
Erriyon Knighton Vs Usain Bolt: Who is taller?
Well, height is a factor perhaps advantageous in all sports. However, if you are a sprinter and got a good height, congratulations, you are god's favorite. With a height of 6.5 feet, Usain Bolt was certainly one of the gifted track and field athletes in the world. In comparison to the legend, wonder boy Knighton stands 6.3 feet tall, which is 2 inches less but still a valuable advantage over others.
Knighton was originally a wide receiver on his high school football team. Though on the suggestion of his football coach, he switched to track and field and the rest is history.
Another world record in the bank
ADVERTISEMENT
Article continues below this ad
The 18-year-old American sprinter is just unstoppable. In the 200m race in Baton Rouge, Louisiana, he clocked another world record time. He finished the race in mere 19.49 seconds, which is the fastest time since the 2012 Olympics, and he is now just behind Usain Bolt's world record of 19.19 seconds. Leaving behind the other legends, Knighton is now officially the fourth fastest man in the history of track and field.
ADVERTISEMENT
Article continues below this ad
WATCH THIS STORY- Did Lamont Marcell Break Usain Bolts Record? Heres A Speed Comparison Between The GOAT And The Current Olympic Champion
The way he is hunting down Bolt's records one after the other, Knighton has a bright future ahead. He is just 18 now and, as per his impressive performances so far, he is certainly destined for great things.