"All The Tools Are There"- New York Yankees Hitting Coach Makes A Big Prediction On Prospect Jasson Dominguez
Published 02/13/2022, 8:51 AM EST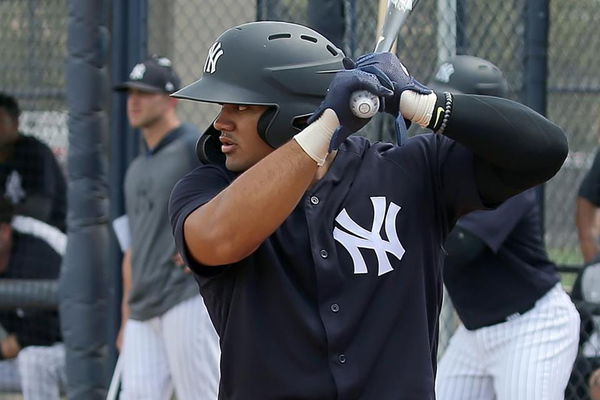 The New York Yankees seem to be preparing for seasons beyond just the next few years. With a capable farm system routinely churning out world-class talent; the Yankees are outfitted for dealing with any amount of trade freezes. And a big part of those plans features their young prospect Jasson Dominguez.
ADVERTISEMENT
Article continues below this ad
The young Dominican who celebrated his birthday in training camp with the Yankees is reportedly tremendously skilled and not afraid to show it either. Displaying capabilities in the ballpark that have caused him to be nicknamed 'The Martian' for how out of this world they are. The New York Yankees host him in training camp while the lockout is active and the major league players begin spring training. And he seems ready to take on the challenge.
ADVERTISEMENT
Article continues below this ad
Dominguez signed for the Yankees as an international free agent out of the Dominican Republic at the age of 16 for $5.1 million in 2019. And he has done nothing but delivered since. Dominguez has developed several tools while with the Yankees, and several coaches have attested to his ability too.
Newest among them is Yankees hitting coach Joe Migliaccio. The newly appointed hitting coach for the Bronx Bombers appeared impressed by the prospect and his training at the camp. The Martian, reportedly has shown tremendous ability and quality in the camp having developed several tools along the way.
Joe Migliaccio opens up about Jasson Dominguez
ADVERTISEMENT
Article continues below this ad
Dominguez has displayed some stellar qualities in the minors so far. With a decent showing in lower A ball in 2021, Dominguez looks set to dominate the big leagues too. Dominguez hit a respectable .258 with five home runs and a .744 OPS in 49 games in the minor leagues; this despite being significantly younger than minor leaguers around him. His offensive output was significant with a relatively low down-side. He struck out 31% of the time and drew walks nearly 10% of the time.
And spring training has been a phenom. Reportedly, he dispatched a pitch at 114 mph. The average maximum exit velocity for a big leaguer is 110 mph. And no means does this appear to be an outlier. He has also smoked a single in low A ball on a 112 mph pitch. "All the tools are there," Yankees hitting coordinator Joe Migliaccio said. "He just needs at-bats."
ADVERTISEMENT
Article continues below this ad
And it's his attitude too that sets him apart. Said Migliaccio, "His eagerness to just continue learning new information is beyond his years." The player just seems to have a certain air around him. "He just has this captivating personality about him. It's just really fun to be around, " he added.
The Bronx faithful will be hoping that he delivers for them when called upon, but until then, may the expectations build!