'Goat Is Back': Overjoyed Mikaela Shiffrin Fans React as She Makes a Comeback to the Top, Outclassing Beijing Setbacks
Published 03/16/2022, 12:10 PM EDT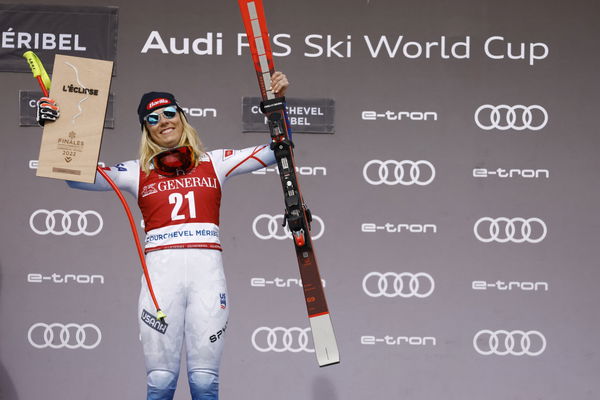 Two-time Olympic gold medalist Mikaela Shiffrin did not have a great start to the year. Not only did she fail to medal at the Beijing Winter Olympics, but she also crashed thrice in the Games.
ADVERTISEMENT
Article continues below this ad
However, it seems that her string of bad luck has come to an end after the Winter Olympics. Mikaela has been leading the World Cup rankings, staying ahead of closest competitor and 2022 gold medalist Petra Vlhova.
With a stellar downhill victory in France, Mikaela has almost won the World Cup for the fourth time!
ADVERTISEMENT
Article continues below this ad
Fans react to Mikaela Shiffrin winning the World Cup downhill event in Meribel
After a disappointing run in the 2022 Beijing Winter Olympics, it seems things have changed for Mikaela Shiffrin. The penultimate season ender of the FIS Ski World Cup was today in Meribel, France, and Mikaela has dominated the slopes.
So far, Mikaela and Slovakian skier Petra Vlhova had been neck-and-neck in points. Thus, it was anyone's championship, before Mikaela decidedly and emphatically won the downhill event today. Thus, she now is a full hundred points ahead and has all but secured her fourth overall World Cup victory.
Naturally, fans are over the moon about her victory and have taken to Twitter to congratulate Mikaela Shiffrin and express their joy. One fan wrote how Mikaela "keeps persevering and making our country (USA) proud," despite "everything that she endured at the Olympics".
Interestingly, Mikaela's boyfriend, Norwegian skier Aleksander Aamodt Kilde also won the World Cup downhill title! The two romantic partners shared a kiss in celebration of their success on the snow. Another fan expressed their happiness for Mikaela Shiffrin's victory. "You are simply the best," they wrote.
On the other hand, another fan wondered out loud if it had been the long list of restrictions and changed environment at the Beijing Winter Olympics that had thrown Mikaela Shiffrin off her game this year. After all, "downhill is not her specialty, slalom is," they wrote, noting how Mikaela had her family this time.
@ClayTravis Beginning to wonder if the restrictions & Covid BS in China during Olympics just freaked Mikaela Shiffrin out. She has a large contingent of family with her at races…but they were banned from travel during Olympics. Downhill is not her speciality (slalom is) https://t.co/BbEgHyuDTC

— Daniel Freer⚔ (@DWF57) March 16, 2022
Yet another fan took to Twitter to celebrate Mikaela "coming back to best form".
DIVE DEEPER: Mikaela Shiffrin Wins Downhill Event Solidifying World Cup Title Chances Against Rival Petra Vlhova
ADVERTISEMENT
Article continues below this ad
Super Mikaela.. coming back to best form!👍🏻👍🏻👍🏻💪🏻💪🏻💪🏻She is the The best and more complete ever.. History will tell

— Ghost Skier☠️#🇮🇹🇨🇱🏴󠁧󠁢󠁥󠁮󠁧󠁿 (@Gostskier) March 16, 2022
Fans are happy to see Mikaela back and roaring
ADVERTISEMENT
Article continues below this ad
Fans have been excitedly cheering on after Mikaela won her first downhill World Cup event after 2020. They have been celebrating her comeback after many naysayers across the world were quick to pass harsh judgments due to her Beijing crashes.
A fan called her a "legend" for being first in the World Cup standings despite "having missed a big chunk of the season and skiing out in Beijing".
Another user wrote how people must have forgotten who the 'GOAT' (Greatest of All Time) was in Alpine Skiing. "Y'all must've forgot," they wrote, attaching a goat emoji next to their tweet.
Finally, a fan talked of how it had been a very long while since they saw Mikaela Shiffrin win so emphatically. "I have no memories of such a joyful Mikaela for a win," they tweeted.
Non ho ricordi di una Mikaela così gioiosa per una vittoria. Questa sa proprio di liberazione. Poi in DH è sempre una sensazione differente, quando Mikaela vince nella disciplina più veloce si percepisce tutta la sua immensità. https://t.co/aEjmYHbp8p

— Federico Benedusi (@federicob95) March 16, 2022
"The goat is back", an overjoyed fan wrote on Twitter, reacting to the standings where Mikaela led the board with a hundred fresh points.
The goat is back 🐐👏👏👏👏

— cheryl knauer🇺🇦💙💛 (@QueeneCheryl) March 16, 2022
With just a few events left now, Mikaela Shiffrin could very well tie Lindsey Vonn and win her fourth World Cup championship. Do you think she will be able to stay ahead of Petra Vlhova?