WATCH: 18-Year-Old Erriyon Knighton Threatens Usain Bolt's Long-Standing World Record with Impressive 200m Record
Published 05/01/2022, 8:15 AM EDT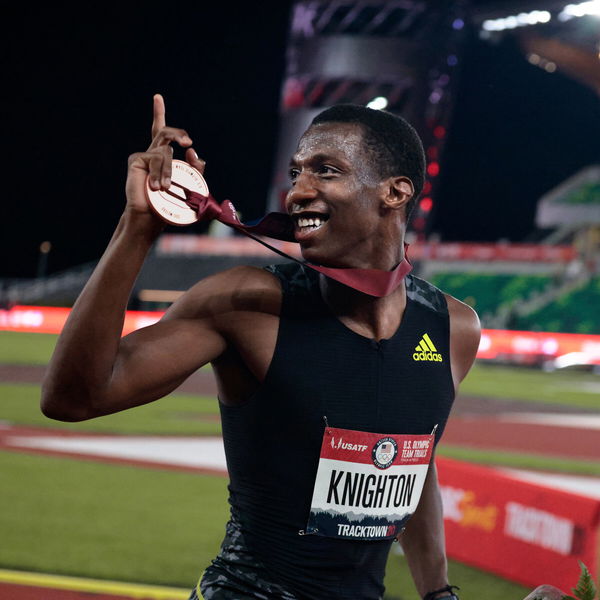 When it comes to track and field, Usain Bolt is a legend of the sport. His 100m and 200m records remain unbeaten to date, marking him as the fastest man alive. Usain Bolt holds a record of 9.58 seconds in the 100m and a record of 19.19 seconds in the 200. No athlete has come close to these records. However, a young sprinter is on his way to the top, breaking all kinds of records. And that is Erriyon Knighton.
ADVERTISEMENT
Article continues below this ad
Knighton, at 18 years of age, has done the unthinkable and given impressive timing at the LSU Invitational on Saturday. The young athlete broke his own U20 record and went ahead to grab a place on the list of the world's fastest athletes.
ADVERTISEMENT
Article continues below this ad
18-year-old Erriyon Knighton shines at the LSU Invitational
The Athletic season is fully on and the LSU Invitational was held on April 30. This is one of the events preceding the upcoming World Athletics Championships in June. 18-year-old Knighton took part in the 200m, where he clocked the phenomenal timing of 19.49 seconds. This is the fastest 200m record by an Under 20 athlete. More importantly, it is dangerously close to Usain Bolt's 19.19 seconds, a world record.
Notably, this makes Knighton the 4th fastest man. He stands right behind Yohan Blake who holds 19.26 seconds on the 200m, and also Michael Johnson, who holds the timing of 19.32.
This is the race where Erriyon Knighton moved his WJR from 19.84s to 19.49s. 4th fastest all time over 200m. Only Bolt (19.19s), Blake (19.26s) & MJ (19.32s) are faster. Look at how he runs the curve and his transition into the home stretch. https://t.co/KAVPMJbdsj

— Donald Smith (@dpos_smith) May 1, 2022
But while both Blake and Johnson achieved this while in the prime of their career, Erriyon has achieved a close enough timing at just 18 years of age. He has ahead of him many more years left to race, where he will get enough time to attempt to break Usain Bolt's record.
Last year at the Olympic trials, Erriyon clocked 19.84 seconds in the 200m event. This time, he left his own record way behind and completed the race with a final time of 19.49 seconds.
Knighton breaks Usain Bolt's record
However, this is not the only time Erriyon is breaking records. He is the same athlete who broke the legendary Usain Bolt's junior record. Bolt's best time before turning 20 was 19.93.
Knighton broke The Lightning Bolt's junior record when he was just 17 years old. Although Knighton's time falls a little behind when it comes to the Jamaicans, it still is the second-fastest 200m recorded by an American after Michael Johnson's time at the 1996 Atlanta Olympics.
ADVERTISEMENT
Article continues below this ad
WORLD U-20 RECORD = 19.49s!!!!!!!!!😱😱😱

18-year-old Erriyon Knighton has just clocked a wind-legal 19.49s (1.4) in his first 200m of the 2022 season at the LSU Invitational!!!

He becomes the 4th fastest man ever at the distance. pic.twitter.com/8lrjgcoxmr

— World of Athletics (@Athleticsglobe) April 30, 2022
Erriyon is now regarded as one of the fastest upcoming sprinters. He has already broken multiple records, leaving behind some iconic athletes. However, only time will tell whether or not he is able to break Usain Bolt's record.
ADVERTISEMENT
Article continues below this ad
Watch This Story: Here's A Quick Look At Simone Biles' Best Gymnastics Moments