The Real Story Behind Usain Bolt and Andre De Grasse's Iconic Smile During an Olympics Race
Published 10/01/2021, 4:03 AM EDT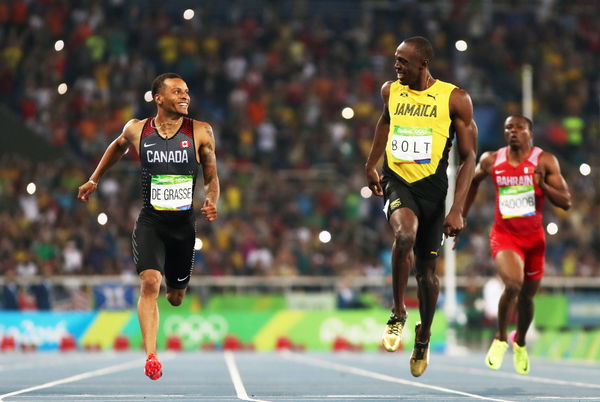 ---
---
Usain Bolt and Andre De Grasse are by far the best track and field athletes in the history of the sport. Notably, the two shared one of the most iconic moments on track during the 2016 Olympic games.
ADVERTISEMENT
Article continues below this ad
Usain 'Lightning' Bolt is a record holder in namely three events- 100m, 200m as well as 4x100m. In his glorious career, he swept a grand total of 8 Olympic gold medals, giving him the legendary stature he has today.
ADVERTISEMENT
Article continues below this ad
Not too far behind himself, Canadian favorite, Andre De Grasse also specializes in 100m and 200m. The 26-year-old has managed to win 6 Olympic medals and is a record holder in his country, for 200m.
A memorable moment for Andre and Bolt
During the 200m semi-finals, at the Summer Olympics 2016, the two athletes, Andre and Bolt, shared an unforgettable moment. Even though engaged in a highly intense battle for the first place, they looked at each other and smiled. The candid moment captured turned into one of the most iconic Olympic pictures in the event's history.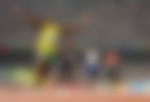 WATCH STORY- 5 UFC Fights You Do Not Want to Miss in October 2021
Since it was a race to qualify for the finals, the two wanted to have some fun. Running beside him, Andre almost caught up with Bolt. Remarkably, Usain too slowed down and smirked at Andre as the two finished the race together, like buddies.
Bolt and Andre, the greatest sprinters of all time
ADVERTISEMENT
Article continues below this ad
In 2009, Bolt became the fastest man on earth, completing a 100m race in 9.58 seconds. Even a decade later, despite giving it their all, none have come close to breaking the Lightning Bolt's record.
At the Tokyo Olympics, Andre not only broke his previous record, but he revamped the numbers for his country as well. Completing the 200m race in just 19.73 seconds, he finished first in the semi-final feat. With that timing, he's now the 8th fastest man in the history of 200m.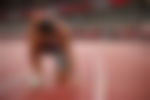 While Usain retired back in 2017, Andre is still out there, giving it his all on the track. Undoubtedly, he misses the rivalry with his favorite counterpart.
ADVERTISEMENT
Article continues below this ad
READ ALSO- 'Never Seen That Before' – Tiger Woods Showcases a Rare Award From His Trophy Collection