"Becomes a Poison…like Damn Cancer": Former Navy-Seal-Turned-Fitness-Icon Storms the Internet With a Brutal Reality Check
Published 03/16/2023, 12:00 PM EDT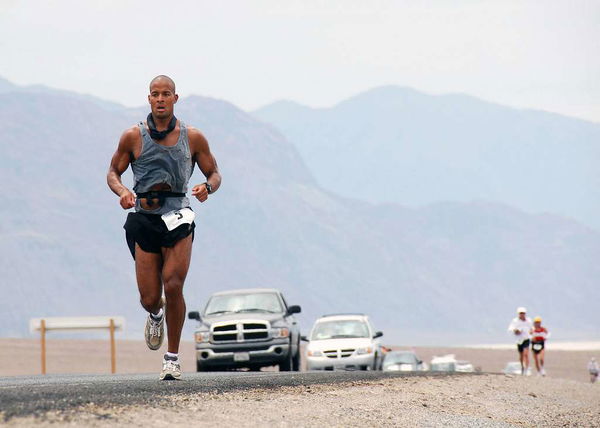 An ultramarathon runner, an ultra-distance cyclist, and a triathlete – David Goggins never ceases to push the boundaries in athletics. Although a fitness enthusiast, his most impactful vocation in recent times has been public speaking. A true motivational speaker, this former US Navy SEAL member follows a hard-boiled approach to living life. Often fueled with extreme enthusiasm and energy, Goggins once again stormed the Internet, in order to push people to attain physical peak.
David Goggins recently took to his Instagram to share a video with a long caption. Goggins, charged up, sounded like a drill instructor to a bunch of new recruits. He never fails to put his point across. Here's what he said.
Always a strong-willed motivator, David Goggins
ADVERTISEMENT
Article continues below this ad
David Goggins said in the video, "When you are training and your mind is all jacked up, all you are is bigger, faster, stronger quitter", in reference to how he started the video. Goggins, in a crystal clear manner, made his point about the utmost importance of the brain. He said no matter how much anyone trains if their mind isn't in the right place, it's all worth nothing.
 

View this post on Instagram

 
He continues, "We all wanna be loved, cared for, appreciated, all that. And when we are not, it becomes a poison in our f**king minds. It starts to really affect us like a (hesitates) damn cancer", still bare-bodied, with his vest over his shoulder, and wearing a pair of shorts. Goggins touched upon an extremely sensitive topic. In the midst of always pushing people to go the extra mile, he wanted to make sure that the mental space and peace is always there. It could otherwise corrupt a human being from the inside out.
However, Goggins soon gets back to his "stay hard" mentality. But he does so by citing an example of an athlete, who may remain nameless.
Goggins values mental health equally
ADVERTISEMENT
Article continues below this ad
Goggins said that this athlete, despite training extremely hard, couldn't really muster up the zeal to fight. This is because, days until the fight, he used to always check social media, where for some reason, he was constantly hated. This started affecting his mind, and true to Goggins's words, all that intense training and hard work was for nothing.
 

View this post on Instagram

 
ADVERTISEMENT
Article continues below this ad
Goggins, who once lost 100 pounds without stretch marks, kept pointing at his head throughout the clip. He has always been an advocate for mental toughness. While his standards for physical prowess and his expectations of the same from others are already well-known, his belief in the importance of mental strength is no less. It all comes back to the way he started his speech, "Everything in life comes back to this" (pointing at his mind).
Watch This Story – Five Years Younger to Arnold Schwarzenegger Lou Ferrigno Looking Like a Beast Next to the Terminator Left Fans Amazed Ones
Edited By: Gideon Mathson