WATCH: When a Cameraman Cleaned Out Usain Bolt After His Olympics Win
Published 04/07/2022, 9:15 AM EDT

Follow Us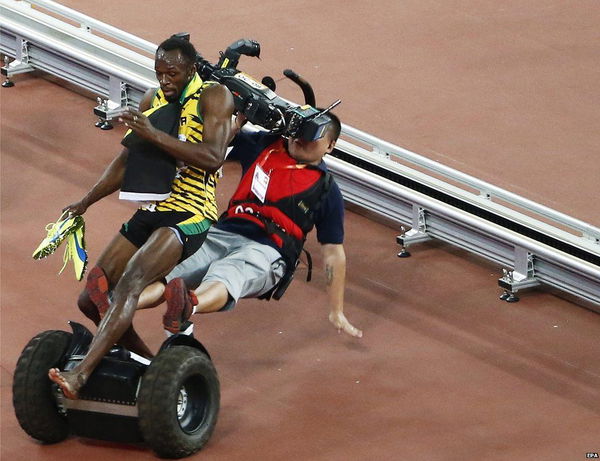 Usain Bolt is the legend of track and field. We cannot talk about the sport of athletics without taking Bolt's name. An eight-time Olympic champion, Bolt still holds the record for the fastest time ever recorded. In fact, Usain Bolt holds the record for both 100m and 200m, something he set back in 2009 itself.
Not only this, Usain Bolt has proved his worth by racing against cars and trains and many other things. Considering all this, one couldn't think that anyone would be able to take out Bolt. But a cameraman has done it.
ADVERTISEMENT
Article continues below this ad
Oops, what was that!
In a video, the cameraman is spotted stumbling while filming Usain Bolt. It happened during the 2008 Beijing Olympics. Post his win, while Usain Bolt was taking his victory lap, the cameraman was filming on his hoverboard.
However, the cameraman stumbled and fell, while taking Usain Bolt down with him! The cameraman crashed into Bolt and both of them fell to the ground.
However, none of them were hurt, and Bolt took it lightly. He laughed it away. The cameraman also felt sorry, but the crash was not intentional, and Bolt understood that. The cameraman himself was genuinely concerned about the athlete's well-being as well.
"Yeah he said he was sorry as much as he could and I checked to make sure he was okay," said Bolt.
Notably, some years later the same cameraman brought a gift for Bolt at the IAAF World Championships 2015. Bolt accepted the gift with great joy. It was a bracelet that the cameraman himself put around Bolt's wrist and they shook hands as well.
This incident itself is a great lesson in humility. Even after being one of the biggest names in the sport, Bolt did not get angry at the cameraman or take any action against him. He realized that it was simply an accident, and he moved on.
Usain Bolt crashes into flower girl
This was not the only accident that happened with Bolt. In Oslo in 2012, Usain Bolt crashed into a flower girl at the end of his race.
ADVERTISEMENT
Article continues below this ad
Bolt was coming to the end of his race, while the girl was coming from the other end with a bouquet in her hand. However, the experienced athlete controlled his speed at the last moment and was able to prevent himself from hitting the girl. They even hugged. Safe to say, the girl will remember that moment for the rest of her life.
ADVERTISEMENT
Article continues below this ad
WATCH THIS STORY: 5 NBA Legends Who Think LeBron James Is The GOAT 
Edited By: Simar Singh Wadhwa