Houston Astros Star to Fulfill Long-Time Promise Worth $100,000 Made to Hometown
Published 12/27/2021, 8:45 AM EST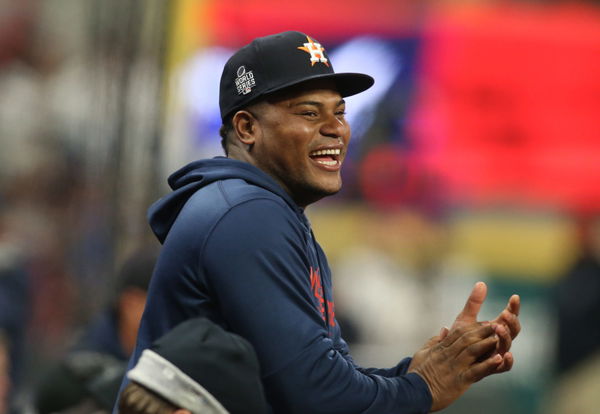 ---
---
Houston Astros' pitcher, Framber Valdez, has invested his time and money in a noble work, fulfilling a promise he made to god when he was just 14. Framber has been part of the Astros team since the 2018 season.
ADVERTISEMENT
Article continues below this ad
Notably, Framber has shown his heroics to pave the way for his team to three World Series during his career. The Spanish player is making a church in his own hometown.
ADVERTISEMENT
Article continues below this ad
Framber fulfilling the promise to god in the Dominican Republic
28-year-old Framber Valdez had asked God for his welfare, and health for his family, and made the almighty a promise to return the kindness by building a church. Back in his young years, when he was 14, he saw a church in bad shape and made the promise to help Pastor Antonio.
Framber revealed, " I had always asked God to continue helping and blessing me, and in return I would build a church in Guayacanes for Pastor Antonio. As he has achieved great heights in his career he has started working on his promise in his hometown. "Right now, I'm fulfilling this goal. I'm very focused on two things – my career and building this church,'' he further added about his current priorities.
Before Framber Valdez was pitching in the World Series, the kid from Palenque made a promise to build his friend, Pastor Antonio, a new church when he reached the majors. Today, with his dad, Valdez is fulfilling that promise and he couldn't be happier.https://t.co/PbMm1vXSMd pic.twitter.com/OmsDN0VCSL

— MLBPA (@MLBPA) December 24, 2021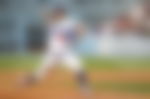 Houston Astros pitcher wants to get the church ready by New Year
Valdez is investing 2 million Dominican Pesos (around $100,000) in a 1,500 square-foot structure. Notably, the church room will have a room for 50 people, and Framber is planning to open it by the new year.
ADVERTISEMENT
Article continues below this ad
Remarkably, Framber is not doing it for any profits, and just to fulfill his pledge to God. Framber said, "If I build you this church, you give me this,' because I don't like that. I don't like feeling like this is a business deal. I'm doing this because I made a promise."
ADVERTISEMENT
Article continues below this ad
It is admirable that at such a young age, Framber has done as noble a deed for his hometown. Apart from athletes' own determination, the support of their hometown people and fans always play a crucial role in their confidence. The sportsman has set a rather positive example for the upcoming generation of baseball players.