"Ridiculous": Noah Syndergaard Slams Carlos Correa for Disrespecting Derek Jeter
Published 11/25/2021, 8:00 AM EST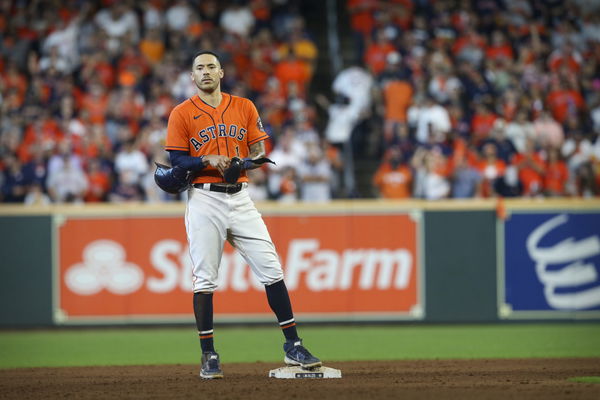 ---
---
Carlos Correa might be the favorite in free agency, but as for his rivals, they aren't a fan of him. However, with his harsh comments on Yankees legend, some would say he invited trouble himself. Although the victim, Derek Jeter, chose not to reply, Los Angeles Angels' new pitcher did not hold back from a response.
ADVERTISEMENT
Article continues below this ad
Interestingly, Correa has been on the radar of the New York Yankees for the 2022 season. However, he first faced heat from a few fans and now from Noah Syndergaard for his comments on Derek Jeter.
ADVERTISEMENT
Article continues below this ad
Noah Syndergaard wants to strike out Carlos Correa
To catch you up on the drama you missed, baseball star shortstop, Carlos Correa, recently said, "Derek Jeter didn't deserve any," referring to the legend's five times Gold Glove glory.
When Derek Jeter was asked for a reply, he chose not to attack back, saying, "I don't know how my name was brought up, but it doesn't even warrant a response. I mean, I could go a lot of different directions but I won't."
However, Noah didn't let Correa get away with what he said. When he was asked who he wants to strike out the most with the Thor hammer, Noah said, "I would have to say right now, Carlos Correa. Not just for the obvious reason, but just what he said about Derek Jeter not deserving his Gold Gloves, I think that was a little ridiculous to say."
"Carlos Correa for obvious reasons, and for what he said about Derek Jeter." -Noah Syndergaard when asked who he wants to strikeout the most in 2022 😳🍿 pic.twitter.com/wchCwPwPlt

— Calico Joe (@CalicoJoeMLB) November 24, 2021
Well, the 'obvious reasons' might be a possible reference to Correa's 2017 Controversy with the Houston Astros. However, while Correa's rivals will not forget that anytime soon, surprisingly, the New York Yankees management has.
2017 Controversy not a deal-breaker for Yankees-Correa future
It is no secret that the Yankees desperately need a shortstop for the 2022 season. Hence, former Houston Astros player Carlos Correa is on top of their list of purchases.
ADVERTISEMENT
Article continues below this ad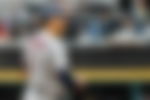 Yankees' manager Aaron Boone and owner Hal Steinbrenner, discarded any rumors about Correa's past being a hurdle in their future relationship. It will be interesting to see how the free agency market eventually pans out for Carlos Correa.
Even though the management has let bygones be bygones, do you think the Yankees players will let Correa get by with him hitting out at their legend?
ADVERTISEMENT
Article continues below this ad