Vladimir Guerrero Jr. Broke THIS Insane Record in Haul for Toronto Blue Jays
Published 10/04/2021, 4:37 AM EDT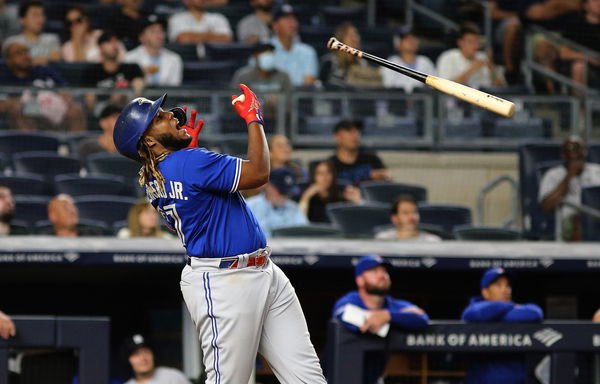 ---
---
The 2021 season came to a disheartening end for the Toronto Blue Jays, as they missed out on the playoffs by a whisker. However, their MVP candidate Vladimir Guerrero Jr gave them something else to be proud of. Putting on yet another phenomenal display, Vladimir created history, breaking a record once held by his father.
ADVERTISEMENT
Article continues below this ad
Playing against Baltimore Orioles, Guerrero smashed his 48th home run, breaking all the previous records of MLB home runs by players ages 22 or younger.
ADVERTISEMENT
Article continues below this ad
Vladimir Guerrero Jr. breaks his dad's record
Son of Hall of Famer Vladimir Guerrero, the Jr. prodigy has baseball running in his blood. Interestingly, he is also the nephew of MLB player, Wilton Guerrero. Remarkably, Vladimir has not only followed in his father's footsteps, but has now surpassed his dad's record of 44 home runs.
On Sunday, the Toronto Blue Jays set their foot on the field for the last match, aiming to clinch the wildcard spot against Baltimore Orioles. Notably, the star of the show was Vladimir Guerrero Jr, as he astonishingly scored his 48th home run, helping the team win the match. With that victory guiding shot, Vladimir now has the highest home run record for players aged 22 or younger. He also surpassed Eddie Mathews, who had scored 47 home runs in 1953 to reach this spot.
Notably, he also defeated the likes of Bryce Harper (42) and Fernando Tatis Jr (42), who are also in the MVP 2021 contention.
Albeit clinching Sunday's match against Baltimore Orioles, the Jays fell short of one match against Red Sox to win the wild card spot. While they won't be in the post-season, it would be unfair to say that the team did not put on a tough fight.
Can Vladimir clinch the MVP 2021 title?
Despite his heroics, the chances are bleak. Even after producing the best season in his career, there is one player who is outshining him and everyone else. Los Angeles Angels' Shohei Ohtani is leading the MVP contender list, courtesy of his all-around performances.
ADVERTISEMENT
Article continues below this ad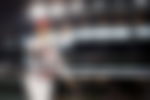 While no one can take away Vladimir's astonishing outing, Ohtani has better odds of winning the award. Although Vladimir has hit more home runs than Ohtani (46), he falls short against Ohtani's overall performance stats.
It's a shame that none of the aforementioned phenomenons will appear in the post-season. However, the race for the MVP 2021 award is still on. Do you think Vladimir is more deserving than Ohtani?
ADVERTISEMENT
Article continues below this ad