WATCH: Furious Boston Red Sox Manager Nearly Throws Hands at Umpire for Controversial Call
Published 10/20/2021, 8:29 AM EDT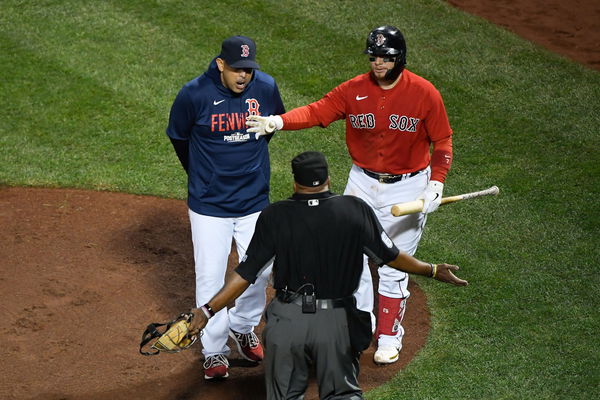 ---
---
After dominating two games in the ALCS, Boston Red Sox had a rough outing in game four against Houston Astros. However, what made the Red Sox manager Alex Cora lose his temper was the umpire's terrible strike call.
ADVERTISEMENT
Article continues below this ad
The ALCS took an intense turn, as the Houston Astros clinched game four by 9-2. Remarkably, they turned the tables in the ninth inning, securing seven runs. The turning point of the game was when the umpire called out J. D. Martinez for strikes.
Boston Red Sox manager Alex Cora lost his calm
ADVERTISEMENT
Article continues below this ad
The Boston Red Sox entered game four of ALCS, with two wins lead against the Astros' one win on Tuesday night. Red Sox was determined to clinch the match and push the Astros towards elimination, but the match went the other way.
Boston Red Sox had a decent start securing two runs in the first innings. In the bottom of the third inning, Red Sox's J. D. Martinez was on the field against pitcher Cristian Javier. When Javier threw his seventh pitch, everyone thought he would be called out for the ball, and Martinez would be awarded the first base.
But in one of the worst strike calls of the post-season umpire, Laz Diaz called out Martinez for a strike. However, Martinez's bat was nowhere in the strike zone, as shown in the picture.
If the umpire would not have made a terrible call, Red Sox might have secured a strong lead. Shocked by the decision, Alex Cora rushed to the pitch with anger, and it could have turned into a huge fight. Thankfully, saving the field from turning into a battlefield, third-base coach, Carlos Febles, dived in and pushed Alex away from the umpire.
Springingly, the umpire did not eject Alex Cora for his argument.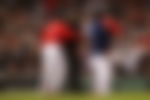 Game Four Recap
In game four of ALCS, till the eighth innings, the match was a tie of 2-2. However, in an insane comeback, the Astros clinched seven runs in the ninth and last inning, securing the victory.
ADVERTISEMENT
Article continues below this ad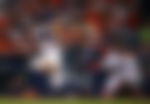 Now, the series is tied between the two strong teams. With the level of intensity and crazy comebacks in ALCS, there is a realistic chance the series might go until the seventh game. The two teams would now clash in game five, who do you think is going to claim the next victory?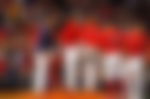 ADVERTISEMENT
Article continues below this ad