6'9 Strongman Giant Hafthor Bjornsson Shares the Unavoidable Downside of Being a Tall Guy on a Flight
Published 01/18/2023, 1:15 PM EST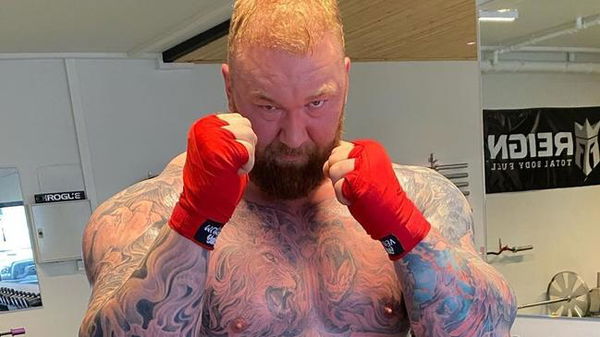 Believe it or not, being strong and tall has its downfalls. And who better to justify this point than strongman Hafthor Bjornsson himself? The Game of Thrones fame athlete has proven his might and strength with his prolific career across weightlifting and boxing. Although he rose to fame due to his physical attributes, he recently got in a fix because of them.
Recently, Hafthor posted a photo on his social media account, where he revealed his struggles, which are exclusive to him. While on a flight, the strongman realized that his size hindered seemingly normal experiences, such as using the bathroom. What caused such a bizarre revelation? Read on for details!
Hafthor Bjornsson has an awkward flight experience
ADVERTISEMENT
Article continues below this ad
Hafthor played the role of 'The Mountain' on the popular television series, Game of Thrones. And rightfully so, since the star towers at a height of 6'9 and weighs over 200 lbs. His strength helped him score big and set a record for a deadlift of over 1000 lbs. So when the star boarded a flight, he faced an unexpected hindrance that he joked about on social media.
 

View this post on Instagram

 
Owing to his more-than-average height, the star found it difficult to go to the airplane's bathroom. In a hilarious photo, Hafthor tried squeezing in to fit into the tiny airplane bathroom while he clicked a mirror selfie. What usually fit the average human being was a bit too small for the champion.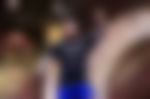 Continuing an ongoing series of how he struggled to fit into places that didn't offer him room, the star wrote, "Airplane toilets aren't made for tall guys." Nevertheless, he laughed his woes away along with his fans, who also made fun of the situation. Meanwhile, this is not the first time that Hafthor has commented on things that don't fit him as a tall person.
ADVERTISEMENT
Article continues below this ad
What else has been short for 'The Mountain'?
Mirror selfies have proven to be Hafthor's saving grace when it comes to showing his perspective. As a large man, the athlete has often found himself in situations where accommodation got just a bit too short, leaving no room to breathe. While the airplane was a claustrophobic nightmare, Hafthor once faced trouble in a different way.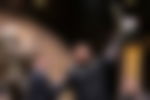 What was supposed to be a quick appearance check turned into a hilarious revelation. Hafthor once couldn't even look properly into a mirror, since he was too tall for it. The champion updated his fans about the situation with an Instagram story while jokingly grumbling about how no one made mirrors for tall guys. And fans seem to love his goofy posts.
ADVERTISEMENT
Article continues below this ad
Watch This Story: Arnold Schwarzenegger vs Andre the giant who is stronger
Edited By: Simar Singh Wadhwa