Big Ramy Undergoes the Same Treatment as Ronnie Coleman to Fight for His Redemption at Arnold Classic 2023
Published 01/25/2023, 12:00 PM EST

Follow Us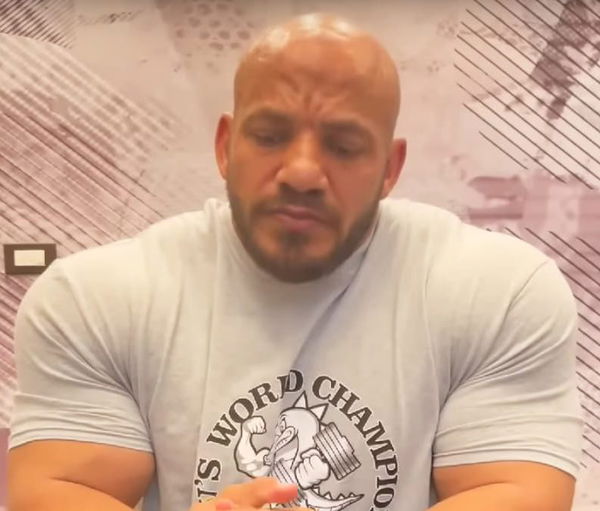 Just over a month after Mr. Olympia 2022 concluded, Big Ramy aka Mamdouh Elssbiay is taking tough measures to prepare for his next big event. Big Ramy, one of the hot favorites to win the last Olympia and make it three in a row, lost out on his crowning moment after coming in at 5th position. Several bodybuilding experts, including the likes of Arnold Schwarzenegger, weighed in on Ramy's defeat. His nerve issues were often pointed out as one of the main reasons. Now, in an attempt to help recover and present a more symmetrical body, Big Ramy has undergone this medical treatment just at the heels of Arnold Classic 2023.
The Arnold Classic 2023 is just over a month away (2-5 March) and promises to bring yet another thrilling contest in the world of Bodybuilding. Last week, Big Ramy announced his entry into the Arnold Classic, surprising many. He could only do that courtesy of a medical procedure that Ronnie Coleman and Chris Bumstead have also previously undergone.
Big Ramy receives Stem Cell Therapy just before the Arnold Classic 2023
ADVERTISEMENT
Article continues below this ad
Stem Cell Therapy – A type of regenerative medicine used to repair damaged cells and reduces inflammation. After Big Ramy was dumbfounded at his defeat at the Olympia, he sought to figure out his mistakes. Some suggest his back and shoulder injuries, others his lower back and nerve issues, and some even believe he struggled to pose at the main event. Ramy is looking to rectify all of it and bring a more completely flawless physique at the Classic 2023.
 

View this post on Instagram

 
In his Instagram story, Ramy shared a statement from Dr. Akhan which was, "When your body can't regenerate and recover, intravenous stem cells can help improve your body's ability to adapt and grow".
He recently visited the Bioscience Institute in Dubai to receive the treatment. Giuseppe Mucci, its founder, gave him a warm welcome. In an Instagram post, they talk about the various benefits of stem cells and how it helps in regeneration. Putting his faith in this procedure, Big Ramy seems confident of his return to the top. Big Ramy isn't the first bodybuilder to undergo this treatment.
Big Ramy joined Cbum and Ronnie Coleman among bodybuilders to receive the treatment
ADVERTISEMENT
Article continues below this ad
Probably the most successful bodybuilder of all time, Ronnie Coleman also used stem cell therapy after several back surgeries. Coleman often strained his body in maintaining his shapely-yet-muscular physique. The stem cell therapy enabled him to walk without any help, and he called it a 'life-altering' treatment. Classic Physique Olympia Chris Bumstead used mesenchymal stem cell therapy (cells from the umbilical cord of a newborn baby) to help him with his bones, cartilage, and ligament tears.
 

View this post on Instagram

 
ADVERTISEMENT
Article continues below this ad
Whether the therapy will help Big Ramy lift, the Arnold Classic title remains to be seen. But what is evident, is his ability to put on a terrific show of his physique, as he did twice before when he won the Mr. Olympia titles.
WATCH THIS STORY – This Medicine and Health Specialist Cum Friend Of 2X Mr. Olympia Big Ramy Is Expecting Him To Win For The Third Time
Edited By: Pritam Priyedarshi