"Be Glad He Didn't Pick Combat Sports…": 350 Lbs Giant Strongman Makes Sports World Go in Frenzy With His Unbelievable CrossFit Challenge
Published 12/29/2022, 11:15 AM EST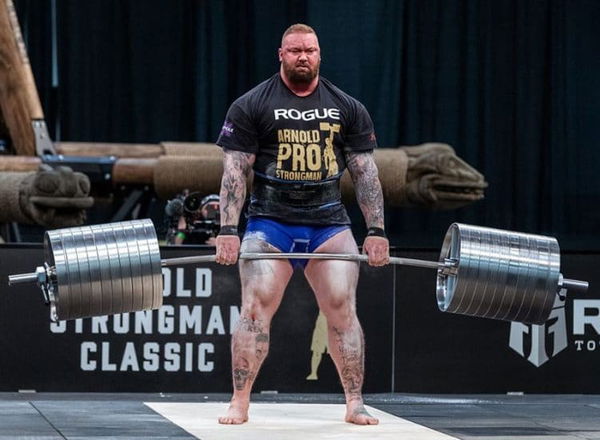 It has been more than three years since the last season of the HBO fantasy series Game of Thrones was aired. But fans are still captivated by Hafthor Bjornsson (aka The Mountain) and his brutal acts in the show. 2019 World's Strongest Man keeps posting his daily routine, workouts, and family pictures online to keep his fans updated. However, his most recent Instagram post drove fans crazy, for not just his strength but for showing his athletic side as well. Let's delve deeper.
The Icelandic giant A.K.A Thor (as he is colloquially called) has been known to do strongman activities in the past like pulling a truck or lifting immensely heavy weights. However, this time around, the 350-lb Northman was seen doing a Crossfit challenge showing his athletic side to the world.
Fans go berserk after Hafthor Bjornsson does an athletic Crossfit feat
ADVERTISEMENT
Article continues below this ad
In the short clip, one could see him balancing himself on certain beams, before going on to do the Salmon ladder challenge successfully. Despite his crushing weight, Thor performed the challenge with ease and perfection. In fact, his fans went nuts in the comment section. Let's see how some of them reacted.
 

View this post on Instagram

 
"My dude would be the ultimate @nfl left tackle."
"Salmon ladder at what 350? Pretty sick"
"Absolutely ridiculous. Makes me think this dude would've been a dominant force in ANY sport he chose. Heavyweight division be glad he didn't pick combat sports full time 😂😂"
"Thor doing the salmon ladder is insane"
"F****ng beast"
"Ninja Thorrior?"
Most of the comments hinted at the awe-inspiring flexibility shown by the strongman in doing the Salmon ladder. It does require a fair bit of strength to perform the salmon ladder successfully, but it is mainly a combination of technique, strength, and body balance. Agility and fitness are added advantages. Further, among the rising allegations on The Mountain, this video here silenced it all for everyone!
Bjornsson's initial love with basketball and attaining an athletic body
While fans were surprised to see a big man like him be so athletic, it wasn't something that happened out of the blue. Thor had been working towards gaining an athletic body for quite some time. He initially dreamed of becoming a basketball player but injuries on the court pushed him toward the gym. Eventually, his focus shifted to building muscles which led him to believe in eating everything. However, in recent years, he controlled his diet in order to achieve a more athletic body.
ADVERTISEMENT
Article continues below this ad
 

View this post on Instagram

 
Thor shared the clip on his Instagram account before it was shared by Reign Body Fuel, an energy drink that he endorses. In another advertisement for the drink, Thor is seen taking a sip from the drink before spewing it and repeating the phrase, "Go to the f****ng gym" again and again.
ADVERTISEMENT
Article continues below this ad
Watch This Story | 6'9 Tall Giant Hafthor Bjornsson's Diet That Made Him World's Strongest Man
Be it his skull-crushing skills onscreen or his truck-pulling offscreen, Hafthor Bjornsson has kept his fans mesmerized since he became famous. What other athletic or skillful activity would you like him to do and post on social media? Let us know in the comments.
Edited By: Jahnabi Choudhury