"Multiple Uncrowned Mr. Os": Bodybuilding Veterans From the 90s Get Ultimate Compliment From Fans While Sharing a Frame at Mr. Olympia 2022
Published 12/28/2022, 11:15 AM EST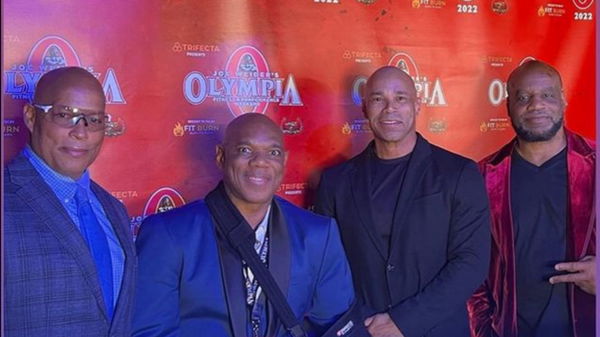 Despite their legendary careers, many bodybuilders have never won the prestigious bodybuilding title, Mr. Olympia. Flex Wheeler, Chris Cormier, Shawn Ray, and Kevin Levrone are some of the famous bodybuilders who never won Mr.Olympia in their careers. Recently, the "Sultan of Symmetry" posted an iconic picture of all four of them together at Mr. Olympia 2022 championship.
The 'one of its kind' picture has sent bodybuilding fans into the 90s memory lane as everyone appreciated the "uncrowned legends". Wheeler also had an interesting question for the followers.
Flex Wheeler surprises his fans on Instagram
ADVERTISEMENT
Article continues below this ad
Wheeler was one of the veteran bodybuilders who attended the mega Mr. Olympia 2022 event to encourage participants and young bodybuilders. Despite not being fully fit, Wheeler made it a point to be present at the prestigious competition. Days after the event ended, the bodybuilder posted a picture of himself with his former on-stage rivals Cormier, Ray, and Levrone.
In this unique image, all four bodybuilders who have never won any Mr. Olympia title in their careers posed together for the camera. In the caption, Wheeler wrote, "4 Amazing IFBB Legends @_chriscormier @shawnrayifbbpro @kevinlevrone MAN, didn't we set the world on fire 🔥 ?? I truly feel that all three of you deserve at least one @mrolympiallc What do you think 🤔??"
 

View this post on Instagram

 
Well, it was a simple question for their fans and followers as everyone jumped into the comment section to acknowledge the legendary bodybuilders and answer Wheeler's question.
Kevin Levrone quickly replied to Wheeler's post in the comments: "Yes we did brother!"
A few followers replied to Wheeler's Mr. Olympia question and said: "Multiple uncrowned Mr. Os in the photo. Some of the most aesthetically and muscular physiques to hit the stage. What an era!"
"All four of you guys do..the Best are All right here!! 🏆🏆🏆🏆"
"Again, it's hard to believe there's not a Mr O in this picture."
While others went down the 90s bodybuilding age with the legendary picture: "To me, personally, this era was the best in bodybuilding."
"Thats the 90's stage 🥇"
ADVERTISEMENT
Article continues below this ad
Some appreciated the legendary bodybuilders: "WOW REAL KINGS!!! Respect 🙏"
"Só elite 👏👏👏👏👏"
"The best to ever do it ❤️👏"
ADVERTISEMENT
Article continues below this ad
Watch This Story: Bodybuilding brothers try their hands at Dwayne Johnson's crushing Black Adam workout
Despite being the best bodybuilders during their time but unfortunately, Wheeler, Cormier, Ray, and Levron never won any Mr. Olympia titles. However, they have all won several other bodybuilding titles and mainly the hearts of many bodybuilding fans.
Edited By: Pritam Priyedarshi