"First Thought You Were 50": Aesthetically Flawless Bodybuilder With Specs Left Fans Debating His Age on the Internet
Published 03/12/2023, 3:26 PM EDT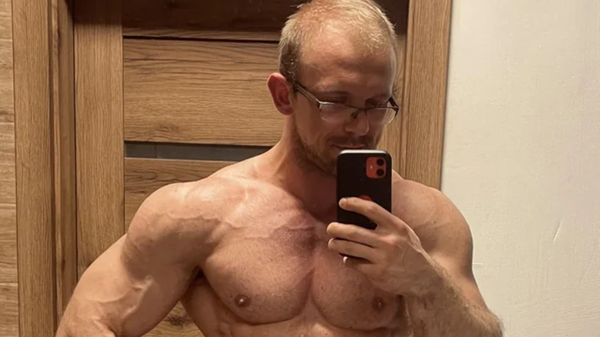 Never judge a book by its cover. The internet learned this lesson after looking at the photos of a young bodybuilder. Lately, the bodybuilding world has witnessed the emergence of bodybuilding enthusiasts of varied age groups ranging from as young as 3 years old to 86 years old. This has left the netizens curious about the age of new bodybuilders that catch their attention. 
However, recently a bodybuilder left the internet shocked when he revealed his age. As the Reddit user devonarek went viral, netizens tried guessing the bodybuilder's age. But what they assumed was far from reality. 
What made the internet curious about a bodybuilder's age?
ADVERTISEMENT
Article continues below this ad
On 11th March 2023, user devonarek posted a mirror selfie, flaunting his ribbed physique. Sharing his plans in the caption, he wrote, "Last 21 days of shredding and i will try to rock the stage. 108kg / 190cm. Aiming for 2nd time Champion. Cheers!"
While the bodybuilder undoubtedly had a shredded physique, other details in the photos left the fans guessing his age. It was his specs and hairstyle which made them wonder how old the bodybuilder is. Turns out that the bodybuilder is a mere 28-year-old. However, netizens had assumed that he was in his late 40s or 50s.
Netizens debate about the age of the bodybuilder in a viral photo
ADVERTISEMENT
Article continues below this ad
Looking at the photo, one fan commented, "You look absolutely incredible. But ngl I first thought you were 50 but wouldn't believe someone like that would have this physique. And so I found out that you're 28." Defending the bodybuilder, one fan countered, "No way does he look 50, he looks 37 maximum." 
A third fan commented, "wait i thought he is 45. how old is he?" Another one added, "Physique looks incredible, but the advanced aging due to gear has me 50/50. You look 40+." One fan wondered the reason behind the aged look. They wrote, "I'm wondering how much of it is from the cutting and light. The hair loss can just be genetics." 
ADVERTISEMENT
Article continues below this ad
Watch This Story: 33-Year-Old Female Bodybuilder Shares Top Tips for Building muscle without protein shakes
Looking at the inquisitive and some insensitive comments, one enraged user wrote, "What the f…ck everybody talking about his age my best mate started losing hair at 18 so what, brother u look like a machine goodluck." As the internet shares their take on the photo, do you think the bodybuilder looks older than his real age?
Edited By: Debmallya Chakraborty