Fitness Influencer Tries 1000 Reps of Abs for a Week- Here's What Happened
Published 02/06/2023, 5:00 PM EST

Follow Us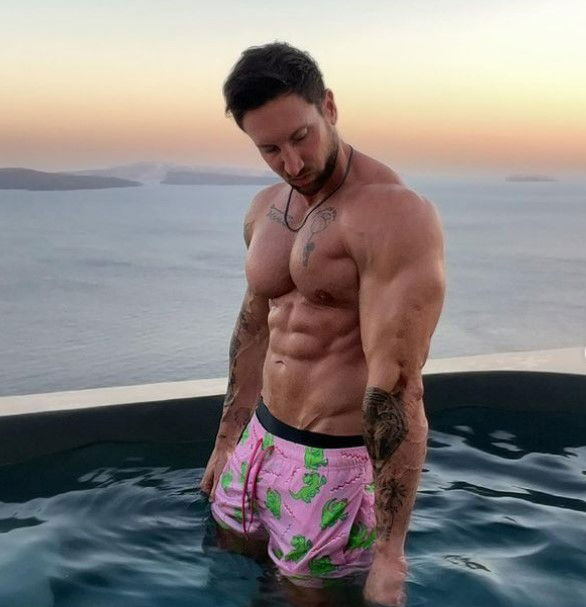 The sky is the limit for fitness influencers to explore and experiment with the numerous possibilities a human body can achieve in the bodybuilding arena. Recently, Troy Adashun, a.k.a. Superhuman Troy took on a monumental challenge to undergo a one-week ab transformation after a month of binge eating. As unbelievable as it sounds, Adashun challenged himself to 1000 reps of ab exercises daily for a week.
To make it more interesting, he took inspiration from some of the top names in the fitness world. He practiced the ab workouts of 4 x Mr. Olympia Classic Physique Chris Bumstead, Dwayne 'The Rock' Johnson, Zac Efron, 8 x Mr. Olympia Ronnie Coleman, and martial arts legend Bruce Lee.
In pursuit of flat, sleek six-pack abs
ADVERTISEMENT
Article continues below this ad
Troy Adashun had an enviable body until the "dirty bulking season." He became a voracious eater, loaded with super sugar-rich food for a month. The outcome was quite evident – an obese, no-ab look. He could hardly see his feet. "What the f***? I can't even see my.." he exclaimed.
Giving a hilarious yet undeniable take on the desirability of abs across athletes, actors, and even cartoon characters, the fitness enthusiast began his one-week journey of 1000 reps of ab exercise every day and a 30-minute cardio of walking up a hill combined with a 1000-calorie deficit diet.
Day 1 began with CBum's ab workout, comprising of three exercises – Ab rollouts of 4 sets x 20 reps, supine leg raises of 4 sets x 20 reps, and finishing with a plank exercise. He repeated the 150-rep routine seven times to reach the 1000-rep target. "Why did I pick this challenge? How many days left?" the exhausted superhuman wondered.
There was no looking back
The fitness freak continued his grind with The Rock's ab routine on Day 2. Hanging leg raises, rope crunches, and Russian twists, each of 4 sets x 20 reps. He repeated it four times and clocked the magic number, 1000 at the end of the day. The Day 3 exercises included four rounds of 150 sit-ups and 75 leg raises.
ADVERTISEMENT
Article continues below this ad
The following day's exercises were dead bug, Russian twists, and ball passes, inspired by Bay Watch star Zac Efron. Four days past the challenge, on day 5, he chose Ronnie Coleman's simple routine of 4 x 12 reps of crunches combined with leg raises and bicycle crunches.
 

View this post on Instagram

 
ADVERTISEMENT
Article continues below this ad
After finishing day 6 of its quota, he gave himself the most formidable challenge. This time, he chose the hardest ab exercise in the world – Dragonfly by Bruce Lee. At 6990, Troy shifted to a hilltop for the remaining ten counts of ab exercise. He did it!! True to his name, he proved the superhuman and insane capacity of a human body by achieving spectacular abs in just seven days. What do you think of his unbelievable transformation? Would you try it?
Watch This Story: Golden era vs Modern bodybuilding era showcases sport evolution throughout the years