"He's a Nazi": Producer's Prejudice Against Arnold Schwarzenegger Nearly Shattered His Hollywood Career Before Launching Until Director Saved the Day
Published 03/17/2023, 8:35 AM EDT
Arnold Schwarzenegger has millions of people who look up to him or admire him. However, in his decorated career, Schwarzenegger has met his fair share of people who hated his guts. He once had an encounter with one such person while working on a major action-adventure film. It wasn't something Schwarzenegger did that caused the producer of the 1980s film series to want to drop Arnie. But, it was his misconception about the Austrian Oak's roots that stemmed the prejudice.
In one of his books, Arnold Schwarzenegger revealed how he nearly lost his role in the Canon the Barbarian film series.
Was Arnold Schwarzenegger a Nazi?
ADVERTISEMENT
Article continues below this ad
Arnold Schwarzenegger's Austrian roots have often raised eyebrows about him being a Nazi. While the Nazi rule was over before Schwarzenegger was born, his father's past involvement with the German army was the reason behind this misconception. Among many others, Conan the Barbarian's producer, Dino De Laurentiis believed the rumor. It was because of this prejudice he wanted to get rid of Schwarzenegger, though the actor had already signed the contract.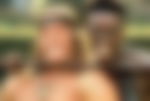 Recalling Laurentiis' reaction in his book Total Recall, Schwarzenegger wrote, "De Laurentiis still despised me from our first encounter…'I don't like the Schwarzenegger,' he told Milius. 'He's a Nazi.'" However, luckily for Schwarzenegger, not everyone involved shared the same sentiments. Schwarzenegger continued, "Luckily John had already decided that I was perfectly cast. 'No, Dino,' he said. 'There is only one Nazi on this team. And that is me. I am the Nazi!' Milius wasn't a Nazi, of course."
Clarifying Milius' intent behind the statement, Schwarzenegger added the director loved saying outrageous things. In this case, it was just to shock Laurentiis. However, this instance makes one wonder why some saw Arnold Schwarzenegger as a Nazi.
The basis behind the misconception
ADVERTISEMENT
Article continues below this ad
It is no news that though Arnold Schwarzenegger is a popular celebrity based in America, he wasn't born there. Schwarzenegger was born in Thal, a village in Austria, in 1947. As one might know, the Nazi German regime ended with the second world War in 1945. Hence, by the time Arnie was born, it had already been two years since the dictatorship and the war ended. Therefore, Arnold Schwarzenegger has never been directly affiliated with the Nazis.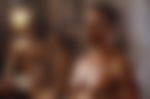 However, the same cannot be said about his father. Arnie's father, Gustav Schwarzenegger, served in the German army until 1945, giving rise to such speculations.
ADVERTISEMENT
Article continues below this ad
Watch this Story: Arnold Schwarzenegger vs Andre The Giant: Who Is Stronger?
Being born to a father who served in the German army during the Nazi rule is the only reason some people, like Dino De Laurentiis, assume Arnold Schwarzenegger was a Nazi too.
Edited By: Simar Singh Wadhwa