"I Think Flex Had the Best Genetics in the World, but I Kinda Outworked Him.": Ronnie Coleman in a 2020 Interview
Published 11/24/2022, 9:00 AM EST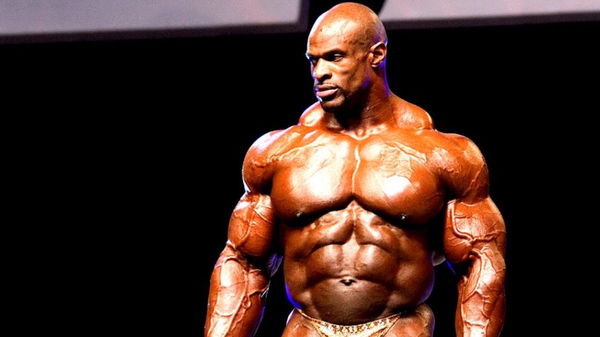 The legendary Ronnie Coleman is one of the greatest bodybuilders in American history. Coleman is a consecutive eight-time Mr. Olympia title winner. Ronnie has won 26 IFFB titles, making him one of the most dominant bodybuilders in sporting history. Coleman's stage presence and perfectly fit and ripped body never failed to impress the audience and his fellow bodybuilders.
Genetics is a big part of bodybuilding, and Coleman had once revealed his rival Flex Wheeler had one of the best genetics. However, a competitive Coleman believes he trained to become the best.
ADVERTISEMENT
Article continues below this ad
Ronnie Coleman compliments Wheeler's genetics but places himself first
In bodybuilding, alongside training, dieting, and steroids, genetics also plays a vital role in defying a bodybuilder's physique. In 2020, Generation Iron Fitness and Bodybuilding interviewed Coleman, where he talked about his career and discussed genetics.
When the interviewer asked if Coleman thought he was "blessed with superior genetics", Coleman had an interesting answer. The greatest bodybuilder said, "In order to be genetically gifted you have to work really hard, though. I think Flex had the best genetics in the world, but I kinda outworked him."
Although Coleman appreciated Flex Wheeler's genetics, he still believed he had put in a lot of effort to improve and overtake his rival. He revealed how hard he had to improve his physique and work on his symmetry. "When I go to the gym, you know, I lift hard, I lift heavy. I had given in. I worked in the gym for more than an hour. The whole time I was there, I was focused," said The King.
The legendary bodybuilder also revealed how his growing arms had become a concern for him, and he had to stop doing arm workouts for a couple of years. He confessed, "I saw my arms getting too big, so I quit training arms for like 2-3 years." Only someone like the great Coleman could flex about growing arms and having the best genetics.
Ronnie Coleman's epic bodybuilding career
ADVERTISEMENT
Article continues below this ad
Coleman's bodybuilding journey began in the early 1990s in Texas, USA. Although Coleman had never thought about becoming a professional bodybuilder, he became the GOAT of bodybuilding.
Besides being the joint-most Mr. Olympia title winner, Coleman has won many other titles in his bodybuilding career. However, becoming the greatest came with a price for Coleman, as he had to undergo multiple surgeries due to heavy lifting and training.
ADVERTISEMENT
Article continues below this ad
Watch This Story: 8 X Mr. Olympia Ronnie Coleman disclosed the amount of money he spent on bodybuilding competitions during his career
Eventually, the side effects of these surgeries and steroid usage became a major health issue for The King. Hence, in 2007, 58-year-old Coleman was forced to retire from the sport.
Edited By: Simar Singh Wadhwa