Impressionist Bill Hader Mimics Arnold Schwarzenegger After Their Hilarious First Meeting
Published 07/08/2022, 8:30 PM EDT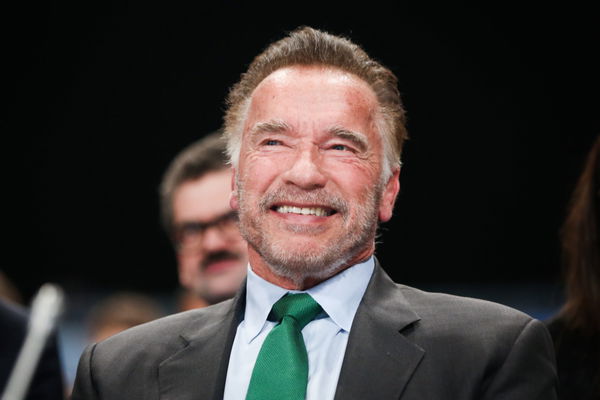 Arnold Schwarzenegger has a larger-than-life personality and a distinct Austrian-American accent which makes him a favorite subject for comics and impersonators. Everyone who meets the bodybuilding icon has a fun story to tell and a funnier impression to perform.
But this one Bill Hader clip had everyone in stitches. In fact, a deep fake version of it even went viral as Hader did such a spot-on impression of Schwarzenegger.
ADVERTISEMENT
Article continues below this ad
Bill Hader on meeting Arnold Schwarzenegger
In an interview with Conan O'Brien on his show, the man of many talents Bill Hader shared the first time he ever met the 7-time Mr. Olympia champion. The impressionist and comedian, Hader, was working as a PA at one of Arnold Schwarzenegger's films, Collateral Damage. 
"The first time I met him, the first time I met him I go-," Hader started, mimicking the deep accented voice of the Austrian-American. "He comes up to me and he had a cigar in his mouth and he goes, 'Where is Jeff and Peter?' That's his hair and makeup guys."
He continued, "And I go, 'I don't know, I'll find them.' And he goes, 'Find them, show me your leadership capabilities.'" With an accurate delivery of Schwarzenegger's cadence, it was as if the 'Terminator' star was sitting right there. 
Of course, demanding a display of leadership skills is exactly what we expect of the former governor of California. Hader also mimics his famous one-liner from Collateral Damage, "Open up the door. There's a bomb in there." He left the audience in stitches.
Schwarzenegger has also dabbled in comedy
ADVERTISEMENT
Article continues below this ad
Where a lot of times, tales of Schwarzenegger involve the athlete-turned-actor being unintentionally funny, Schwarzenegger has an impeccable sense of humor. He also pivoted from his classic action movie career to dabble a bit in the comedy genre before.
While he's known for his intimidating and masculine roles, Schwarzenegger has also shown off his funnier side. In fact, his very first film, Hercules In New York, credited as Arnold Strong, was a comedy too.
His most famous roles in the genre came from two movies. The first was the 1988 film Twins, where Schwarzenegger stars alongside Danny DeVito. The second was Kindergarten Cop showcasing Schwarzenegger as a hardened police officer that goes undercover as a kindergarten teacher.
ADVERTISEMENT
Article continues below this ad
Either way, one thing we know for sure is that Arnold Schwarzenegger is hilarious, be it accidentally or on purpose. I mean, let's not even talk about his cameo in Around The World in 80 Days.
Edited By: Manaal Siddiqui