"Started to Lose My Breath": Struggling with Biggest Fear, Chris Bumstead Takes a Huge Step
Published 03/13/2023, 11:11 AM EDT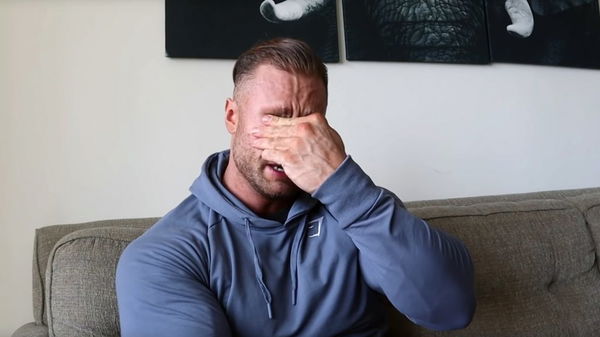 Popular for his physique, Chris Bumstead recently admitted his fear of public speaking in a 2023 Youtube video. In this video posted on his Youtube channel just three days back, Bumstead shared his journey and experiences of conquering this fear. Bumstead recently collaborated with his coach Hany Rambod for a seminar that had the attention of a little over 300 people.
Addressing a large gathering at an event,  the bodybuilding champion shared his experiences related to bodybuilding, nutrition, and training. So, what was the special event, and was it a success? Read on to find out!
Chris Bumstead related how he overcame his fear by participating in a massive event
ADVERTISEMENT
Article continues below this ad
Bumstead recently took a seminar with Hany Rambod that was held on 25th February 2023 in Irving. In the Youtube video shared on 10th March, Bumstead recounted, "It was the first time ever doing some seminar like that." 
Further, the video began with the behind-the-scene moments wherein CBum was going through waves of nervousness prior to the seminar. "I'm someone who has pretty serious anxiety speaking in front of people," he admitted. Continuing, he recounted, "Like when I was talking my heart was like pounding. I started to lose my breath." Despite this, Bumstead continued speaking in this Built from Within seminar, also answering questions from fans towards the end of the session.
Later, Bumstead also shared an Instagram post on 27th February with a detailed caption that attempted to grasp his experiences of appearing in a seminar for the first time in life pretty well. Describing how the seminar was successful, he thanked his fans who attended the seminar. The bodybuilding legend also praised his fans for their insightful questions which further enhanced the event.
 

View this post on Instagram

 

Bumstead also disclosed, "Public speaking is the furthest thing from my forté, but this was a fun challenge to excel myself in ways that make me uncomfortable and a great chance to pass on some of the knowledge we have picked up over the years." Bumstead has yet again proved himself to be open-minded and his willingness to experiment and learn by trial and error has made him the man he is now.
This wasn't the first time Bumstead has interacted with his fans. Earlier, in an interesting Youtube video broadcasted in January 2023, Bumstead answered intriguing questions asked by fans. Responding to how he felt about being called "Daddy," Bumstead didn't shy away from opening up about starting his own family.
Bodybuilding champion Chris Bumstead's unique take on fans' questions
ADVERTISEMENT
Article continues below this ad
Bumstead answered these questions as a guest on the 9th episode of the Youtube channel Raw Nutrition. Reacting to being called "Daddy," he stated, "Online being called Daddy is one thing. It's funny." However, he stated that a grownup person addressing him as Daddy in face-to-face interaction, especially in front of his wife, was very odd to him.
He also gave a heartwarming response when asked whether he wished to have a mini Cbum. His reaction to this was, "Would love a Mini Cbum." Further, he elaborated that being a father would give him a sense of fulfillment.
ADVERTISEMENT
Article continues below this ad
Watch This Story: From King Ronnie Coleman to 4x Mr. Olympia Chris Bumstead, Here are the Historic Encounters of Bodybuilders with Arnold Schwarzenegger 
Bumstead's statements indicate how he likes to share his journey with fans who are an integral part of his life. How can you relate to Bumstead's fear of public speaking? Share your stories in the comments section.
Edited By: Jahnabi Choudhury