"That's Crazy": Arnold Schwarzenegger's Daughter Has a Selfish Reason to Go to Her Mother's Place With Her Two Daughters Often
Published 03/18/2023, 10:44 AM EDT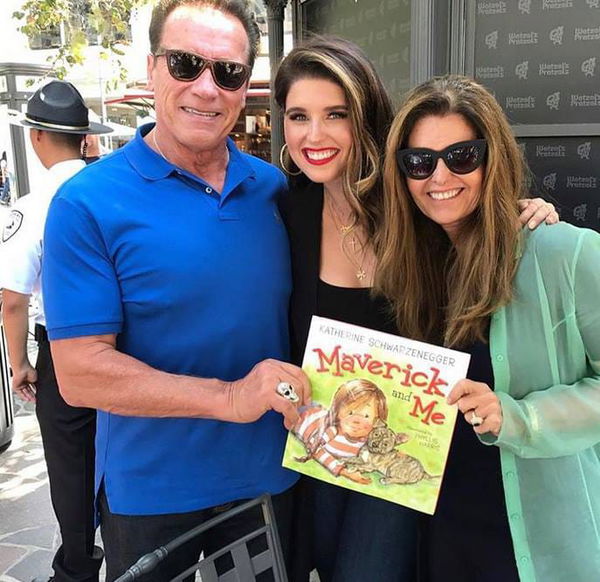 Katherine Schwarzenegger Pratt, the eldest child of Arnold Schwarzenegger and Maria Shriver, knows the importance of family dinners. In an interview, Katherine Schwarzenegger Pratt revealed how her mom had taught her that lesson in her childhood. "We sat down together as a family at 7:00," the author said. Despite their busy schedule, Schwarzenegger and Shriver taught their kids important life lessons. Katherine recalled how her mother had explained dinner was the only time many families "could connect and converse with one another."
The author never forgets her mother's lesson. Chris Pratt's wife also practices something similar at home. "It was such a huge and beneficial part to my upbringing." However, she also revealed her selfish reason for visiting her mother's place with her daughters.
The eldest child of Arnold Schwarzenegger made a confession
ADVERTISEMENT
Article continues below this ad
Earlier, Kathrine Schwarzenegger Pratt sat for an interview with Samantha Darby of Romper. During the interview, the duo discussed family dinners. The creator of the weekly Instagram series BDA Baby — Before, During, & After Baby, discussed the usual dinner at her home. After listening to Schwarzenegger Pratt, Darby mentioned her preference.
 

View this post on Instagram

 
"There's nothing I love more than going to my mom's or my mother-in-law's for dinner," said the interviewer. "Someone else is going to feed me. They're going to feed the children, this is the best," Darby told Hollywood action star Chris Pratt's wife. The mother of two agreed with Samantha Darby.
Arnold Schwarzenegger's daughter has two daughters of her own. Her older daughter Lyla is 2.5 years old, while Eloise is nine months old. The Rock What You've Got writer said she could relate to Darby's statement. "I know. You're like, 'I don't have to clean up a kitchen? That's crazy,'" Schwarzenegger Pratt said during the Romper interview.
Maria Shriver's daughter also explained everything about the dinner "routine" at her place.
What does dinner at the Pratt household look like?
The #TuesdayCookingClub host loves to cook at home. It's an advantage as her daughters have different palettes, and so does her husband. The 80s action icon's daughters revealed she and her daughters have dinner quite early. "I try to start feeding Eloise at about 5:15 p.m., and then Lyla eats at 5:30," said the mother of two. She also said if her husband and stepson are home, they'll all have dinner together.
ADVERTISEMENT
Article continues below this ad
 

View this post on Instagram

 
Schwarzenegger said, "it's such a big priority for all of us to be able to sit down, even if it's for five minutes." After dinner, either she or her husband does the dishes, give their daughters a "quick bath," and put them to bed by 7:00.
ADVERTISEMENT
Article continues below this ad
Watch this story | From Lou Ferrigno to Arnold Schwarzenegger, bodybuilders who made a successful switch to acting
Katherine Schwarzenegger likes having dinner at her mom's place because she doesn't have to do any work. However, at her place, she still follows the lesson Maria Shriver taught her as a kid.
Edited By: Simar Singh Wadhwa